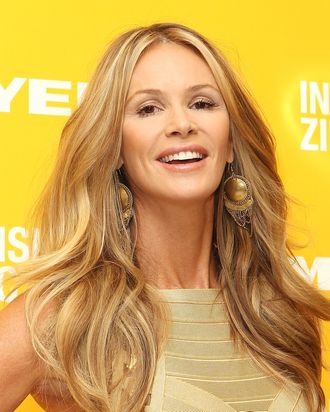 Elle Macpherson.
Photo: Mark Metcalfe/Getty Images
After News of the World journalists hacked Elle Macpherson's phone back in 2005, they published stories about the model's personal life — all based on information intercepted from her voice mail messages. Unaware of the hacking, Elle came to believe an adviser was responsible for the leaks, and eventually fired her. That adviser, Mary-Ellen Field, is now suing NotW's parent company News International for damages, and testified yesterday at a British government inquiry into the 'hackgate' scandal.
In statements made to the inquiry's board, Field said Macpherson had begun to suspect her as responsible for the tabloid's stories and information back in 2005: "For the first time ever she was really grouchy with me. 'I can't have you speaking to the media', she said." At an intervention of sorts shortly thereafter, Macpherson accused Field of being an alcoholic, suggesting that the two issues were related. So, sort of like sending late-night drunken text messages presumably, but with serious consequences in this instance. 
Says Field: "Elle had proposed that I be sent to rehab, to the same place she goes to, to recover from my 'alcoholism'. I thought they'd all gone mad." Field was shocked at the allegations, and felt attending rehab — at the famed Meadows Clinic in Arizona — was a very bad (not to mention, of course, wholly unnecessary) idea. But at Macpherson's insistence, she went anyway, wanting to keep her job.
Field found Meadows far less of a calming repository than its name may have suggested: "Elle made it out like it was a leisure facility but it was a grade 1 psychiatric facility with men with guns in holsters parading about, so it was fairly horrible." And after Meadows' staff told Macpherson that Field was not suffering from alcoholism, the model fired her. Field's firm also fired her soon after, which, she told the inquiry, she believes to be a direct consequence of Elle's decision. She's apparently suffered from extensive health problems since, and has even been fitted with a pacemaker.
Despite the truth of the matter now coming to light, Field also said she hasn't heard from Macpherson since; Macpherson also declined to comment on the matter when pressed by the AP.