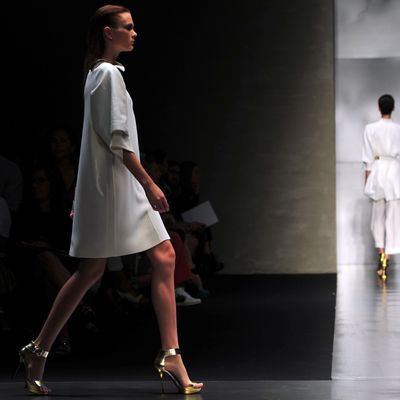 GIUSEPPE CACACE/AFP/Getty Images
Photo: GIUSEPPE CACACE/2011 AFP
New York seems to have made some headway in its disagreement with Milan over Fashion Week dates in the next few Septembers. After Milan threatened to show at the same time as New York and London, causing much drama and threatening, New York offered to pull its dates in September 2012 back a week to accommodate the Italians. This was under the agreement that Italy comply with New York shows beginning the second Thursday in September going forward. Italy has come back with another compromise, suggesting that if New York starts on the second Thursday of September, it also cut Fashion Week short by a day.
The Board of Directors of Camera Nazionale della Moda Italiana met today and, with regard to the issue concerning the future dates of our fashion weeks' schedules, it unanimously deliberated to:

Confirm the previous schedule for September 2012 with New York fashion week starting on Thursday 6 of September, followed by London, Milan and Paris Agree for the next two years ( September 2013 and September 2014) with the proposal of Diane Von Furstenberg, President of Council of Fashion Designers of America, to start New York Fashion Week on the second Thursday of September, that is to say on September 12th in 2013 and on September 11th in 2014.

This, at the following conditions:

2.a New York's last day should be on September 18th in 2013 and on September 17th in 2014 in order to allow London an additional day for the presentation of the menswear collections.

2.b. Paris will accept this structure and follow Milan as always, starting on Wednesday 2nd of October in 2013 and on Wednesday 1st in 2014

In case those conditions didn't happen, the above mentioned solution could not be applied.

Camera Nazionale della Moda Italiana is looking forward to receiving a feedback(sic) from New York, London and Paris.
This means that, rather than running from a Thursday to a Thursday, New York Fashion Week in 2013 and 2014 would run from a Thursday to a Wednesday. You might think, would anyone really miss the hassle of going to shows for an eighth day in New York? Why, if they didn't have tickets to London and Europe it would certainly truncate their street-style blog exposure time by a bit.