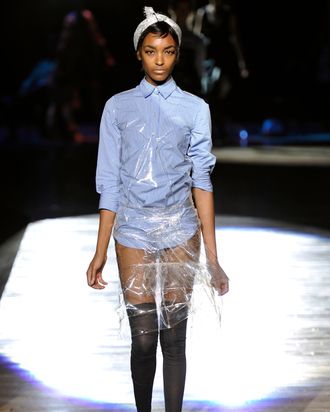 A piece from Marc Jacobs's spring 2012 collection.
Photo: Karl Prouse/Catwalking/Getty Images
According to the Telegraph, British journalists received an e-mail from the Marc Jacobs PR team canceling a press day "due to the theft of the spring/summer 2012 collections during its transfer from Paris." Goodness! Do watch for anyone suspicious-looking wearing shiny gingham, silver cowboy boots, or plastic paillette dresses.  But in all seriousness, it's far more likely that the samples were stolen for counterfeiting reasons. Or, you know, just misplaced en route.