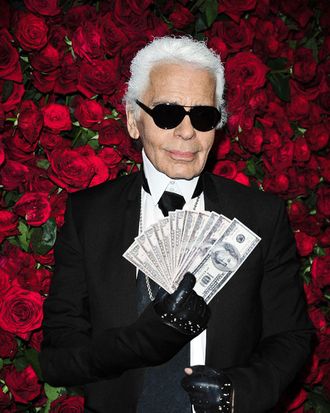 Watch out, Beyoncé.
Photo: Photos: Chance Yeh/PatrickMcMullan.com, iStockphoto
If you thought Karl Lagerfeld just did that Macy's line for the money, do not discount what all that signage and fanfare could mean to him. What's another million or two when he already makes trillions and billions off all his other projects? In a rare view into the paycheck of Karl Lagerfeld, WWD reports that his men's line, created under a license held by F.D. Fashion Herrenmode GmbH, has projected 2012 revenues of $108.2 million. The line, Lagerfeld, from which suits can run about $675 to $810, is sold in about 350 doors, mostly in France, Germany, and Russia.
His paycheck, obviously, doesn't stop there. In addition to contracts with Chanel and Fendi, he will start a women's masstige line on Net-a-Porter next year, along with a new women's ready-to-wear line made under a licensing deal with Ittierre S.p.A. called Karl Lagerfeld Paris in January. Then, when that's all out of the way, he can move on to the next natural phase of his evolution: buying us all yachts.