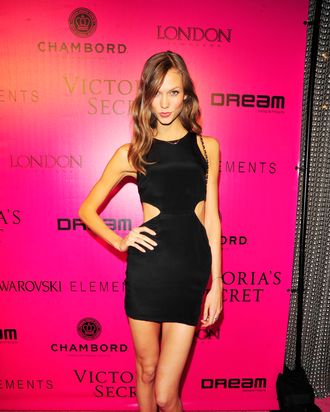 Karlie Kloss.
Photo: Chance Yeh/PatrickMcMullan.com
"Page Six" reports that, just like a middle-school dance, the Victoria's Secret after-party was rather segregated by gender —  with one end of the room for all the single men, and the other end populated by models. At the Hollywood bachelor table was Joseph-Gordon Levitt, Lukas Haas, and Leonardo DiCaprio. But Leo only joined the guys after no luck walking "back and forth three times at the party looking for prospects at the table cluttered with VS models," reports the Post. In particular, he apparently couldn't pull his eyes away from 19-year-old* Victoria's Secret newbie Karlie Kloss. (And this was without her disco-ball skirt, no less.)
Jake Gyllenhaal had slightly more luck. Dressed down "in a wool hat and sweat shirt" —  the casual style that A-Listers can pull off at high-profile events and still look desirable — he apparently spent a half hour talking intimately with Izabel Goulart. (No pictures were allowed of the pair during their flirty conversation, which only serves to rile up the tabloids further.)
*This post has been corrected to show Karlie's correct age.