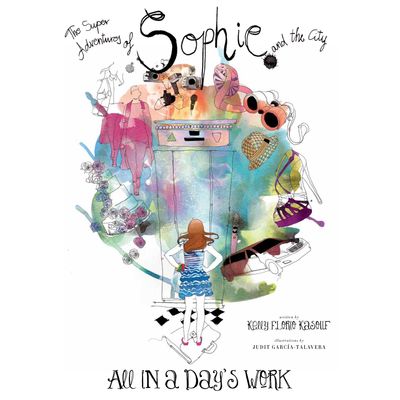 The Super Adventures of Sophie and the City , a new kids' book by Kelly Florio Kasouf (daughter of longtime Condé Nast publisher  Steve Florio), chronicles a little girl's other-worldly adventures at the company's fabled 4 Times Square offices. A lushly illustrated tale of, according to the author, "fashion, fantasy and female empowerment,"  the book features cameo appearances from many of NYC's most well-known fashion faces. And given how close Kasouf was to the source material, there's surely some truth amid the fiction — mainly that Isaac Mizrahi breaks out a pair of glittery wings every once in a while. Read our interview with her below and then click through the slideshow for an excerpt from the book. 
What inspired you to do the book?
My father passed away in December of 2007, and I was just missing him. My dad was like a superhero to me. He led two different lives. I'd be sitting at the dinner table and he'd be telling me about all these amazing people he works with, but at the end of the day, he was more interested in my flute lessons. I was collecting all my thoughts from our first "Take Your Daughter to Work" day and how [Condé Nast] was just another world. I thought every single office building in New York City was as glamorous as my dad's. I was like, "Yeah, no big deal." I didn't know any better! He ran it like a movie studio, so everyone from the editors to the publishers down to the security guards and the delivery men thought they were rock stars. I was always so proud of my dad because he was so able to convey that everybody who worked there was amazing and everybody was the best of the best.
So you'd get to make regular trips into the building?
My dad used to bring me as much as he possibly could. I think he thought I was his mascot. I remember [Condé Nast editorial director] Alexander Liberman held me up and said, "One day, this girl's gonna work at Vogue." Another time I was introduced to Isaac Mizrahi and I went out to lunch with him and Candy Pratts Price — I just thought she was the coolest chick in the world, and I still do. She came to my Sweet 16. [At the time] Isaac said to me, "How old are you?" and I'm like, "Fifteen… you want to make my Sweet 16 dress?" He goes, "Oh I would love it!"So he ended up designing this beautiful dress for me, that's why in the book he's my fashion fairy godfather. I'll always hold that experience close to my heart.
How did you coordinate with Barcelona-based Judit Garcia-Talavera on the book's watercolor illustrations?
I would send her 10-12 images per page for inspiration, with artist's notes that corresponded to each sentence. It was like almost creating mini mood-boards for each page. I would do that for her and she just got it and would run with it. I think we had two revisions, maybe. It was like, "Yeah, maybe make my Dad not look like Burt Reynolds so much." It was a dream to work with her.
There's a lot of detail in the imagery — and in the text, too. Were you conscious of writing for a fashion-savvy audience, even within the kids' market?
Well, it's just a fun element to add. If you're a true fashionista, you'll know she's wearing Miu Miu shoes and she's wearing a J. Mendel skirt and, if you really know, you'll know it's a McQueen dress she's wearing and a Philip Treacy hat that she's wearing. Even though it's about my past, I had to keep it relevant. That's why I used current names for the Vanity Fair page — it had to be modern and up-to-date. We're launching an app as well — it's basically a flip-through of the book, but there's audio and video, and then the last page is a links page. It becomes a mini New York City guide for kids, in a way, so they feel like they own the city too.
Was there a particular part of the book's process that ended up being the most satisfying?
One of the things my dad absolutely loved doing was going to the printing press. He would tell me, "You have to be proud of your product. Everything that you put into it has to be a passion. If you're not proud of it, then people will pick up on that."  So when I went to the printing press to see the jacket being printed, it was just sublime. 
The Super Adventures of Sophie and the City, available in Barneys stores and online starting mid-November.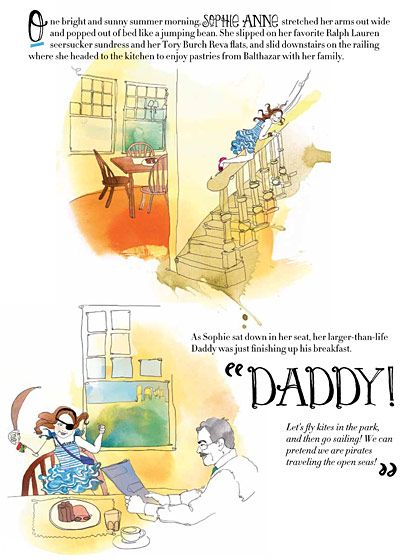 The Super Adventures of Sophie and the City
Sophie-Anne is this excitable even before a sugar-laden Balthazar danish.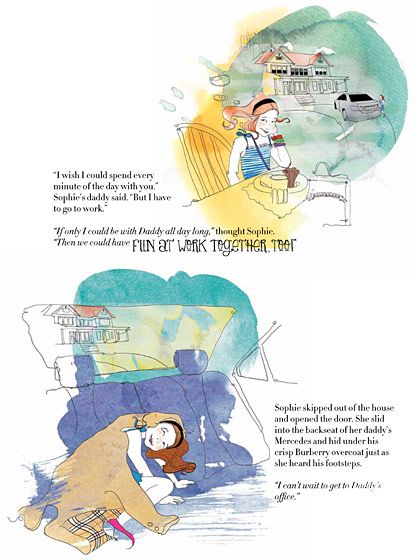 The Super Adventures of Sophie and the City
Well, it's not quite as fun as playing pirates, but some fun is bound to be had at 4TS…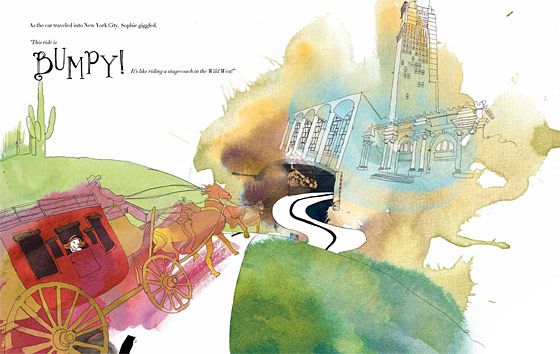 The Super Adventures of Sophie and the City
Arriving for work in a horse and carriage is actually not uncommon among Condé's top editors.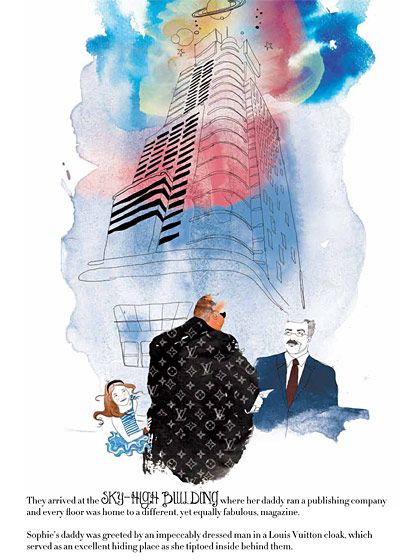 The Super Adventures of Sophie and the City
André Leon Talley cameo! No doubt he'll have an assistant pat down his capes for small children hiding within their folds in future.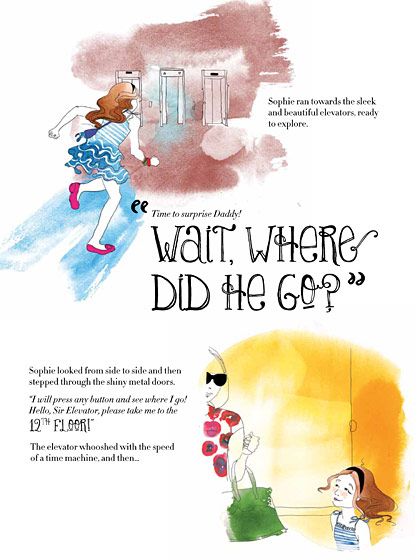 The Super Adventures of Sophie and the City
And here's Anna! She's just not saying anything in case Sophie-Anne is behind the Condé Nast elevator Twitter account. (It's always the ones you least expect.)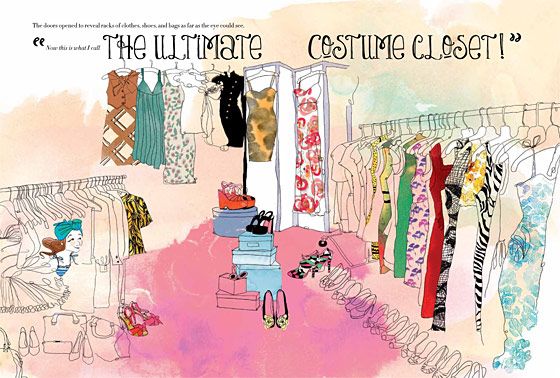 The Super Adventures of Sophie and the City
A more macabre story would have poor Sophie-Anne lost forever somewhere between silk scarves and mismatched stilettos. Fortunately, this is an upbeat little yarn.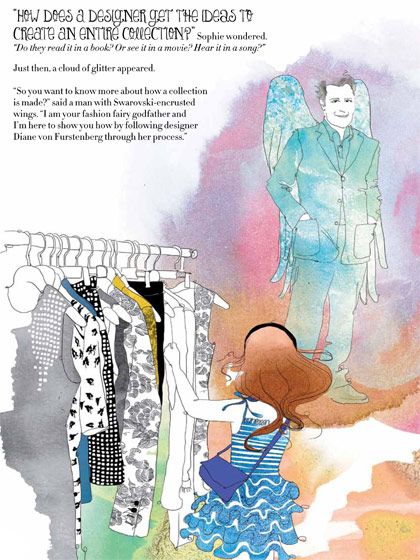 The Super Adventures of Sophie and the City
Who doesn't want to appear in a cloud of glitter, Swarovski-encrusted wings notwithstanding? Lucky Isaac.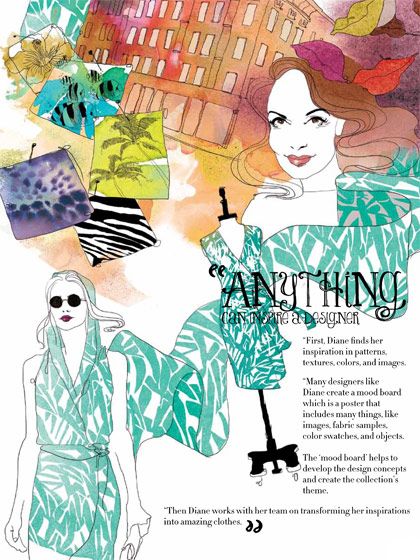 The Super Adventures of Sophie and the City
It's a wrap.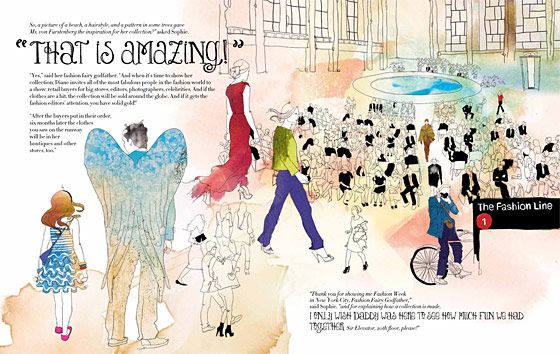 The Super Adventures of Sophie and the City
And of course Sophie-Anne gets snapped by Bill Cunningham on her first magical journey to NYFW. It wouldn't be a fairy tale otherwise.