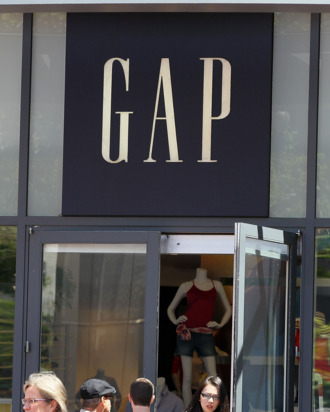 SAN FRANCISCO, CA - MAY 19: Pedestrians walk by a Gap store on May 19, 2011 in San Francisco, California. Clothing retailer Gap Inc. will announce first quarter earnings today after the stock market close. (Photo by Justin Sullivan/Getty Images)
Nearly 1,00o Gap Inc. stores will be open on Thanksgiving Day this year, and more still will open at midnight for the crazed Black Friday rush. The openings mean that those planning to get in line for the day's slashed prices need to do so at, say, around 10 p.m., and could be home asleep in new plaid pajamas by the time they'd otherwise only be getting prepped and layered up for the overnight wait. (Of course, all that spending still counts as mad impulse buys, as is the Black Friday tradition). With the Gap still missing a lead designer, and with profits suffering in recent quarters, the weekend's inevitable sales boom is one Gap Inc. wants a good share of this year.
The extended hours will apply at Gap, Banana Republic, Old Navy, and Athleta locations, as well as Gap Inc. outlet stores — and a special cross-brand campaign is meant to help shoppers get their schedules organized. ShopYourselfSocial coordinates all five brand's social networking and collates information on openings, events, and promotions. So there's no excuse to miss "Gobblepalooza" (the annual three-day sale) this year at Old Navy, though, of course, if you're shopping on Thanksgiving, go before the big meal or, you know, you'll be a size bigger from all the stuffing.
Related: After You Stuff Your Face on Thanksgiving, You Can Head Straight to Macy's to Shop