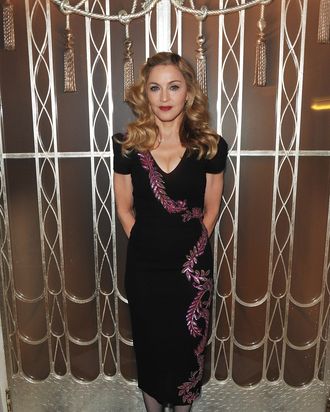 The "Truth or Dare" face herself.
Photo: Jon Furniss/WireImage
Following the great success of Material Girl, Madonna's juniors label for Macy's, the pop star has signed a deal to launch a label for adults. Aimed at customers age 27 to 50, the line has been given the not-so-grown-up-sounding name "Truth or Dare by Madonna," reports WWD. Like Material Girl, it's a collaboration with licensing giant Iconix Brand Group; unlike Material Girl, its sales apparently won't be confined to Macy's. According to Iconix CEO Neil Cole, the label's rollout will begin with fragrance, slated to launch in 2012, followed by accessories like footwear, handbags, and underwear that "truly captures [Madonna's] essence" (cone bras!!!). Cole also revealed that Madonna herself will be the face of her line, which is both a blessing (who doesn't love a good Madonna photo spread?) and a disappointment (she won't make any videos like this one, or tap an adult equivalent of Taylor Momsen). It's safe to assume that the label will spawn a clothing line if it does well, which it probably will.
Related: Madonna Discusses Irony, Refuses Fruit in Video for the Macy's Material Girl Search
Madonna to Launch Second Lifestyle Brand [WWD]