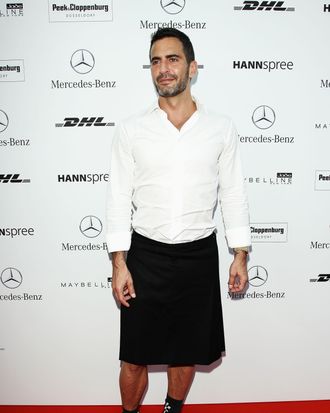 Marc.
Photo: Andreas Rentz/2011 Getty Images
Dior's negotiations with Marc Jacobs to take over the fashion house, which reportedly began in August, are said to have ended, and LVMH is researching other candidates. WWD reports:
Dior has quietly stepped up the pace and depth of negotiations with other designers.

It is understood Alexander Wang, Raf Simons and Jason Wu are among some of the candidates recently approached, with Riccardi Tisci still in the mix but viewed as an unlikely appointment, given his strong momentum as Givenchy's couturier.
Critics have pointed out that it'd be equally unlikely for someone with no couture experience to get the appointment, but this clearly isn't the case. Couture is a relatively miniscule part of the massive Dior brand, and while it's certainly a big part of the house's tradition, it doesn't do much for the label's bottom line.
Dior was rumored to balk at Jacobs's salary requirements, but a source tells WWD that LVMH's relationship with Marc is still cozy and there's a chance talks could resume.
One source cautioned, "It is not impossible that [Arnault] resumes his talks with Marc." Indeed, last month, the luxury goods executive is said to have jumped on his private jet and flown to Manhattan to meet with Jacobs.

The last talks with Jacobs remained cordial, with no explosive breakdown, according to a Paris source. But Arnault and Dior recently decided to move onto another scenario.
As Carine Roitfeld pointed out, it'll be tough for whomever is eventually tapped, because everyone will know that he wasn't the first choice.