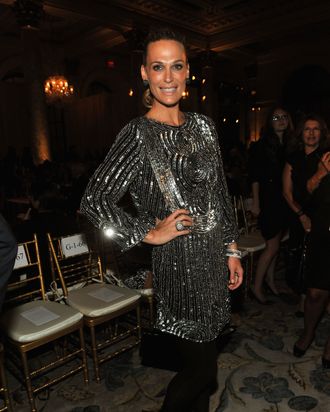 Molly Sims at Marchesa's spring 2012 show.
Photo: Henry S. Dziekan III/Getty Images
Molly Sims is one of the elite few models who, after a successful commercial career (she modeled for Victoria's Secret, Sports Illustrated, and dozens of ad campaigns), was able to transition smoothly into TV and acting jobs (she had a major role on NBC's Las Vegas for five years, and now hosts Lifetime's new Project Runway spinoff, Project Accessory). This past month, she started her own lifestyle website, MollySims.com, a GOOP-esque forum where she dispenses tips on everything from wardrobe to hair to recipes. Of her new status as a style arbiter, Sims is matter-of-fact: "Girls always ask me for advice about fashion and beauty and health tips, so instead of sending twenty e-mails a day, now I can just be like, 'Click here.'" She's also genuinely, incredibly nice (she apologized profusely when, mid-interview, she had to take a call from the vet about her dog), which she says has helped her career. "I was never one of those girls who was going to throw a fit if there wasn't X, Y, or Z for lunch at a shoot," she explains. "I always try to be as low-maintenance as possible." We caught up with Sims to talk about her post-modeling career, her obsession with scarves, and her hatred for padded shoulders.
What's a lesson about dressing yourself that you learned from being a model?
For me, I hate my arms. I was a swimmer for eight years of my life and I have these big shoulders, so I like to wear a jacket or a cardigan. If you have a body part you don't like, instead of worrying about it, find ways to cover it up so that you can feel good about yourself. I can put on five pounds and take off five pounds and you wouldn't know it, because I know how to dress. If you want to elongate your legs, don't wear your pants below your bellybutton — get 'em up there! And the hem of your pants should be touching the ground, and put a heel on. I'm telling you, you'll lose five pounds right there.
What about lessons you learned after your modeling career?
It's so important that you find an honest person whose opinion you trust. I had a fitting yesterday with Rachel Zoe, who's amazing, but most people don't have stylists, and in that case get a really good mirror and find a friend who will give you good advice. In terms of dressing, I say, invest in great basics. Get a great jacket, a great boyfriend cardigan, a beautiful scarf, and a great pair of skinny jeans and a great pair of normal jeans. You can put some trendy tank tops and colors underneath, but if you always invest in basics, you cannot go wrong. And like I said, get a good mirror. You know, if look fat in it, you can put on a cardigan.
 
How did you learn that you had a knack for giving advice to other people?
When my friends told me that they passed along my advice to other people. I just convinced one of my friends not to buy this green dress she wanted, and to buy this great black Helmut Lang jacket instead. She wears it all the time, and she called me the other day to tell me that she'd just told another one of her friends to do the same thing.

Do you miss modeling?
I don't miss it. I could only do it for so many years, and then I needed to go on and do other other things, and I love acting. But I would never, ever be where I am today without modeling. Some actresses who were models never acknowledge their modeling career — or even put it down — but modeling gave me so many opportunities. I can speak French, and I've lived in foreign cities, and it's helped me so much with acting.

How has being on TV affected the way you dress and take care of yourself?
It's not that I stopped caring about my looks, but when I stopped modeling I was much less obsessed with fitting into a size zero. As an actress, not all of your characters are a size zero or a size two, but when you're a model, you're paid to fit into those clothes, and that's ultimately a lot of pressure. But when the pressure came off, I was probably thinner, which sounds silly, but of course the moment you put yourself on a diet that's the moment you crave everything.

Are there any former models whose careers you hope to emulate?
I think Heidi has done a phenomenal job, of course, and Tyra. Both Rebecca Romijn and Bridget Moynahan have developed good acting careers, too. I think an important thing about all those girls is that they're all good, nice girls, and that's a big part of why they've been so successful. I've never believed in being fussy about jobs I take; I've always felt that there's another model or another actress right behind me, so I keep working. Work leads to more work. I've always believed that.

What trends are you really into right now?
You know, Jenna Lyons from J.Crew was on Project Accessory, and she wore this amazing outfit — a navy tank and sequin skirt. I would never wear that, but I saw it on her and I loved it, so she sent to me. I freakin' love it. Bright, bright color and navy blues — color blocking in really beautiful combinations is so flattering on everybody.

Any trends you hate?
I'm just not into the whole eighties padded-shoulders. I don't like it. I never have.

Is there a signature piece that you never leave home without?
I wear a scarf. I love scarves. I swap them out all the time. I love Theodora & Callum in the summer. You can wear them as scarves or also with bathing suits or as a skirt. I always put on my gold Rolex that my husband gave me.

Who's your style icon?
Probably Sarah Jessica Parker. I love that she'll wear a great dress on and then put on a crazy Philip Treacy hat. She's never safe, but she always keeps it ladylike. She's not the kind of risk-taker that'll show her butt crack.