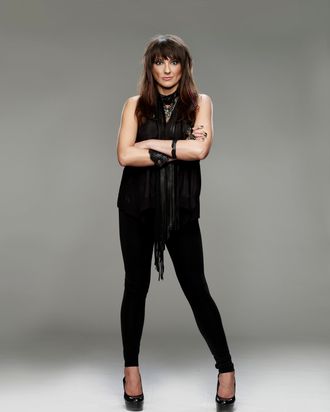 Nicolina Royale
Photo: Richard McLaren/Lifetime
It's been three weeks and Project Accessory, Lifetime's Runway spinoff, is still struggling to find its feet. (Perhaps because most of the shoes made on the show so far have been pretty unstable.) And with last night's double elimination, things aren't looking great for its future either. One of the two designers knocked out of the competition was our sentimental favorite and undoubtedly the biggest character so far, Nicolina Royale.  We talked to Nicolina this afternoon about her time on the show — and true to reality-TV form, she didn't hold back.
On coping with the different design skill sets the show required:
Well, you have to know that you're crazy already when you don't make shoes and you sign up to make shoes on a TV show. But I never imagined they'd turn out so fabulously —  and when you watch the episode, you'll see I'm the only one who didn't ask for help from James, that damn shoe guy who should have been eliminated the first time. The first outfit he had — that monstrosity of a look — that is the first moment I was like, 'I am on a a reality TV show — this is not a design competition.'
On the show's judging panel:
I was crossing my fingers and praying that we would get Heidi, Michael, Nina, and Tim — if it were my show, I would have had them on because it carries the brand over. I would have loved a hug from Tim Gunn, and Molly Sims has really big shoes to fill. And the thing about the judges is that they were so all-over-the-place, and their comments didn't even connect to any fashion sense in my head, so it was hard to take them seriously. They needed some Red Bull and a cocktail hour in the green room.  That's what I think the show is lacking: personality. And maybe that's why they had Nicolina. [Ed note: Yes, she just referred to herself in the third person. And, yes, we liked it.]
And on mentor Eva Jeanbart-Lorenzotti:
[The crits] were always very brief, and she'd always say, 'You're running out of time.' I'm thinking, 'Really, there's a big clock on the wall, you don't think I know that?' I really wish she would have had a lot more input. I'd never heard of her magazine before either, that rich people's SkyMall, I don't know.
On Kelly Osbourne saying her belt last night looked like a tampon:
I love rock and roll, so I love Kelly Osbourne, and I love her family. But of course this is the one time that I didn't do a full rock and roll design. I was like, 'Who's going to wear this fucking bodysuit?' and I was having problems with that. I thought I was very classy and there were a lot of things I wanted to say, but I held my tongue. I was thinking, 'Kelly, are you kidding me?' but I knew a lot of the critics and bloggers would say it for me. I don't need to say it; everyone knows.
On the show focusing on her many breakdowns:
I was just like, 'I'm going to be full Nicolina Royale.' I watch enough TV shows and I realize they need a character. It's like, 'Who's going to watch this show?' We need viewers. I'm going to be myself —  and why would I filter myself? It's reality TV. That's what [the producers] want. I'm sure that's why they cast me. I'm going to speak my mind, I'm Nicolina!
I don't ever cry all day long in real life, but I go on this show and I'm the crier, waterworks, crazy eyes. But at least people are talking about me [because of that] — they're not talking about anybody else. Lifetime must have loved me because they had me in every promo and they had me in every episode. I was like, 'That is a lot of Nicolina Royale.' But I want to be a household name, and I'm not going to do it the Kim Kardashian way.