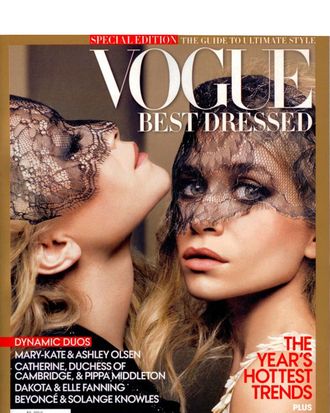 The Olsens, shot by Craig McDean.
It's time for Vogue's annual "Best Dressed" issue, a supplement full of pretty people wearing clothes for you to judge. This year's theme is "Dynamic Duos," better known as sisters, including the Olsen twins, Kate and Pippa Middleton, Elle and Dakota Fanning, and Beyoncé and Solange Knowles. After all, these women all have not one, but two wardrobes of nice designer clothes to choose from, giving them an advantage when it comes to dressing themselves. Mary-Kate and Ashley are on the cover, which is a first for them of sorts, as they've never landed Vogue before (unlike last year's "Best Dressed" cover girl, Blake Lively).
The full top-ten list of siblings is open to voting on Vogue.com under the somewhat misleading title "Sibling Rivalry" (wouldn't it be so much more interesting if people could vote for which sister dressed better than her counterpart?). They're ranked in the following order:
Mary-Kate and Ashley Olsen
Elle and Dakota Fanning
Claire, Virginie, Jenna, and Prisca Courtin-Clarins
Ruby and Lily Aldridge
Poppy and Cara Delevingne
Bianca and Coco Brandolini
Beyoncé and Solange Knowles
Charlotte Gainsbourg and Lou Doillon
Pippa Middleton and Catherine, Duchess of Cambridge
Kate and Rooney Mara
But just because some ladies were born sister-less (or just don't have a famous, stylish sibling with whom to share shoes and red carpets) doesn't mean they got left out: The issue also features Vogue favorites Kate Moss and Kristin Stewart, as well as relative up-and-comers Florence Welch and Emma Stone.