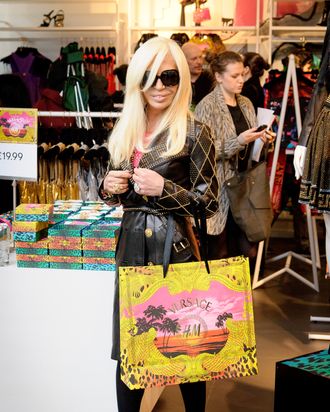 Donatella Versace at the London launch. Obviously she did not have to wait in line.
Photo: Nick Harvey/2011 Nick Harvey
Hardy Versace fans are already lining up on the sidewalk, in the cold, for the label's H&M collection, which hits racks on Saturday at 8 a.m. As of 11:30 this morning, nine people were waiting outside the H&M store on Fifth Avenue and 51st Street for that very moment, still more than twenty hours away. All had folding chairs and blankets; all wore coats and fur hats. Perhaps apprehensive about what would surely be a ruthless spree the next morning, the first trio of folks in line were less than nice when we tried to ask why they were there — they had no time for questions, despite having little to do but sit around. Behind them were two mothers who traveled all the way here from Maryland so that their daughters could shop the collection. They started waiting in line yesterday, but were so cold waiting overnight that they left their front-of-the-line spots. They were also reluctant to discuss their longing for brightly printed palm-tree tees and/or gold-studded leather attire. 
Eighth in line is Michael, a 22-year-old music producer. "I'm definitely a big, avid fan of Versace," he told us. "And I don't ever wait in line for anything. And when I heard about this I was like, oh yeah, this is something I have to go out and wait in line for, you know?" He arrived at 9 a.m. this morning with his wife: "Our anniversary is actually tomorrow and [buying the line] is like a little event that we planned." Michael made sure to call the store a month ago to find out when he'd need to get in line to buy the items he wants, which include all the men's leather pieces along with some man-jewelry and "almost everything" for his wife. (He called in sick to work for the occasion.)
Though temperatures will likely drop below 40 degrees tonight, he seemed confident he had enough blankets to keep him and his wife warm. Despite everyone else in line seeming so grumpy, Michael said they'd coordinated a routine for food runs and bathroom breaks, and there haven't been any signs of fights breaking out so far. But it's still early: "When people start getting out of work, the line's probably going to get really serious," he conjectured. We'd say it already is.