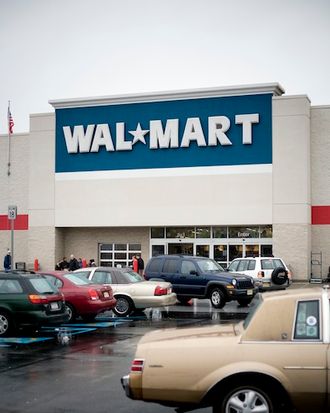 A woman claiming to have been the infamous Black Friday Walmart pepper-sprayer turned herself in to the LAPD's Devonshire Station on Friday night, reports the L.A. Times. When she was questioned, however, she refused to respond to queries about the actual incident, so she was released pending further investigation. The incident, which left twenty shoppers with minor injuries like stinging eyes and bruises from jostling crowds, was witnessed by dozens of people and recorded on the store's video cameras, so police say the suspect shouldn't be hard to pin down.
According to the L.A. Times:
Detectives plan to interview as many victims and witnesses to the attack as they can before deciding whether to seek criminal charges against the woman.

"We have a ton of witnesses and victims to interview," said LAPD Officer Bruce Borihanh. "We know who she is."
And, considering the suspect used her pepper spray to nab a brand-new Xbox game console, she can probably be found at home on her couch.
Earlier: All the Insanity From This Year's Black Friday Shopping