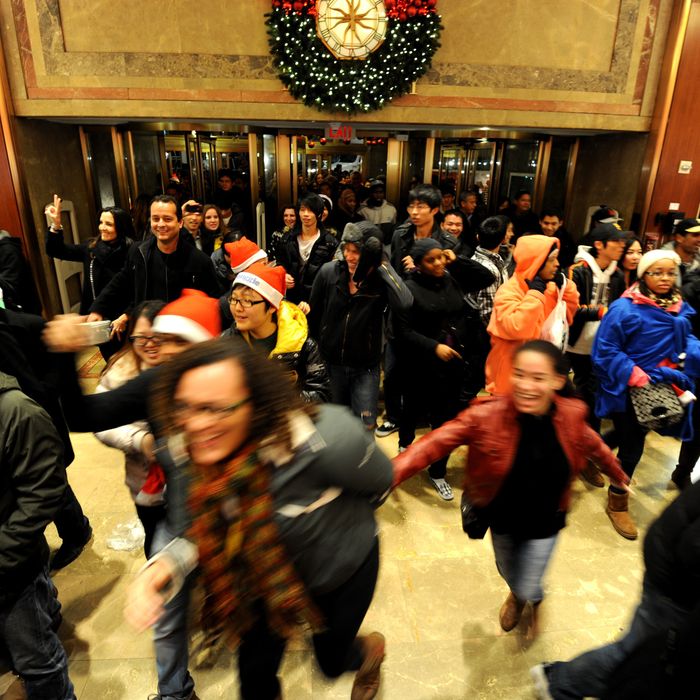 Oddly cheerful stampeding shoppers at Macy's on Black Friday.
Photo: Stan Honda/AFP/Getty Images
If you did your part to stimulate the economy and shop this past weekend, congratulations! You surprised everyone. WWD reports that a wide spectrum of stores and e-commerce sites — including Macy's, Ideeli, Brooks Brothers, Scoop, and Target — all say that this year's Black Friday business far exceeded last year's, despite all the recent gloom and doom over failing supercommittees and whatnot. Which makes retailers a little confused, although pleasantly so.
WWD reports:
Retailers overall were less ebullient, even though they were generally pleased, and even baffled in some cases, to have, at least for the moment, overcome the challenges of the economy, low consumer confidence and tepid October sales. Americans are disillusioned by their ineffective government, feeling squeezed by inflation and depressed home values, and discouraged by the lack of job opportunities. Yet they're hitting the malls and opening their wallets, albeit judiciously, for something they really want if it's well-priced.

"It's perplexing, but we are in a good place," said Kathryn Bufano, president of Belk Inc., particularly after what she called a record Black Friday this year for the Charlotte, N.C.-based department store chain.
Analysts attribute strong sales to lots of promotional markdowns, warm and sunny shopping weather, and lots of online orders. The most popular items were apparently boots, denim, corduroy, fine jewelry, and flat-screen TVs; there was a disappointing lack of interest in winter outerwear, apparently, which might be attributed to Friday's warm weather. The National Retail Federation says that the average shopper spent $398.62 this weekend, up from $365.34 last year, and the total came to an estimated $52.4 billion, up from last year's $45 billion. Meanwhile, according to ShopperTrak, which monitors sales and traffic at malls, this year's Black Friday sales increased by 6.6 percent, and reached a total of $11.4 billion, the biggest dollar amount on record for the day. It's also the biggest percent increase since the 8.3 percent rise in 2007. ShopperTrak also reports a 5.1 percent increase in Black Friday foot traffic in malls over last year.
The jury's still out on whether opening stores and malls at ridiculously odd hours really helped with the bottom line, since it's quite expensive to do so, but everyone agrees that it helped attract extra shoppers. Plus, the the novelty of hard-core shopping gets folks in the spirit of it all — if you're at Macy's at 4 a.m., then of course you're going to buy something. Speaking of, please share — what did you purchase this weekend?