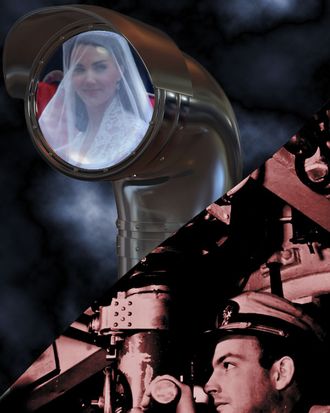 Lately the curtain has been lifted on the new house of Alexander McQueen under head designer Sarah Burton. To add to her slew of recently released interviews is one she did with Lane Crawford about her new Beijing store, in which she reveals that Lee Alexander McQueen's dog used to "eat my packed lunch out of my bag," and that Lee loved Friends: "I remember him saying to me, 'I watched "Friends" last night, did you see the shirt that Joey was wearing?'"
And in another interview with British Vogue, she explains how she had to keep the secret that she was designing Kate Middleton's wedding dress for months, going so far as to schedule meetings as if everything were normal and she wasn't working on one of the most significant dresses ever.
"Because my core team knew, it was okay for me to disappear and then come back, and then disappear again. But I remember other people asking me, 'Are you coming in on Friday?' And I'd say, 'Oh, yeah, see you in the morning'. I'd be scheduling meetings knowing full well I wasn't going to be there for them," she told Vogue .

New York's Metropolitan Museum of Modern Art was hosting an Alexander McQueen retrospective days after the Royal wedding and Burton used that as a cover story when explaining why she kept missing appointments.
She also couldn't even tell her parents until the night before. And while she got to go to Westminster Abbey to make sure Kate's nine-foot-long train was in order, her folks had to try to catch a glimpse of the dress from the Pall Mall, where they observed it "via a periscope," the Telegraph says. Hmmm. Television, periscope, television, periscope … they absolutely made the right decision.
Sarah Burton: how I kept Kate Middleton's wedding dress secret [Telegraph UK]