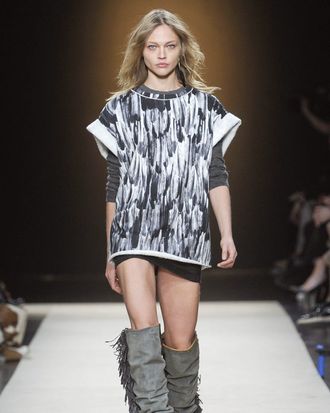 Pivovarova on the fall 2011 Isabel Marant runway.
Photo: imaxtree
reesespieces: So just in time for the holidays, Sasha Pivovarova is designing underwear for the Gap!
reesespieces: I hope you were sitting down for that momentous news.
discoamz: Really? I'm actually in bed, blogging in comfort.
reesespieces: What a COINCIDENCE, me too.
discoamz: (And yes I really do have my flamingo pajama pants on. You'd be so jealous.)
reesespieces: Oh I am. I have a Golden Girls tee on, it's my most comfortable sleep/laze-around-all-afternoon-like-a-classy-fashion-blogger tee. But now the neckline is sadly beginning to fray.
discoamz: Actually these pajama pants are from Gap. Your Golden girls tee and my flamingo gap pants would make the perfect pair of pajamas. The Gap should hire us.
reesespieces: Haha, but in all seriousness, yes! I would be SUCH A GOOD creative consultant
discoamz: Oh, me too.
discoamz: Add sparkles, fire the boring actress spokesmodel, get me a drink, done.
reesespieces: That would be perfect. How do we let the Gap know our services are available on a freelance, drinks-based basis?
discoamz: You should just post this instead of actually writing a post about Sasha's thing. Who wants to do that right before Thanksgiving, really.
discoamz: Unless you think it's creepy for people to know we're at home in PJ's — but I think it just makes us relatable and you should do it.
reesespieces: Oh I will.