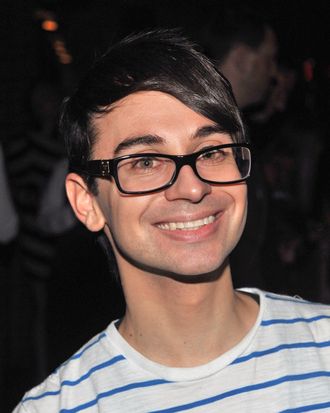 Christian Siriano.
Photo: Henry S. Dziekan III/Getty Images
Christian Siriano's representatives, talent firm Designer's Management Agency, are suing him for withholding fees.* In the suit, the agency states that they were largely responsible for the successful negotiations between Siriano and Payless Shoe Source back in 2008 —  negotiations which led to the designer's ongoing collections for the footwear brand. As part of the licensing agreement DMA negotiated, Siriano received a flat design fee of $35,000, plus royalties at 2.5 percent of his designs' sales for each collection (coming in at a minimum of $50,000 for spring/fall lines, and $30,000 for summer/holiday.)
DMA alleges that in February 2010, Siriano made arrangements with Payless to be paid directly, and has since not paid the agency its commission, which was agreed upon only orally between Siriano and his DMA representatives. They're apparently owed a minimum of $53,000 from Siriano; in their suit they've also requested accounting be undertaken to determine whether the figure should be higher still. This sort of thing is inevitable when you, apparently, pay less.
* Update: Christian Siriano's attorneys released a statement in response to DMA's allegations, stating that Siriano is under "no obligation" to the agency, and that "this legal action [DMA] has taken against the companies of Christian Siriano is without merit."