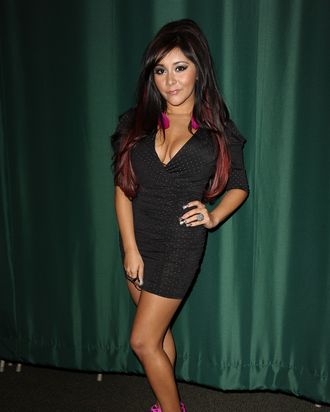 Snooki.
Photo: Jason LaVeris/2011 Jason LaVeris
The world might be temporarily spared Snooki-branded clothing and lingerie. "Page Six" reports that the burnt-orange-skinned purveyor of fragrance and sunglasses has sued SRG Ventures, the company she signed a deal with to make clothes, home items, and lingerie, because the deals weren't as lucrative as her contract said they would be. SRG is planning a countersuit.
Snooki's lawyers allege in court papers that SRG "failed to secure" royalty guarantees of at least $250,000 and a license from a major retailer for another $250,000, as the contract called for. It also says the SRG didn't bring in "five licenses approved by [Polizzi]."

But SRG says it has a "preponderance of evidence" that it did achieve those "performance benchmarks," and says the gnomish reality star is herself in breach of contract.
At issue, SRG says, are trademarks Snooki claimed to have owned that she didn't actually own, as well as her fragrance, a deal which she "consummated" behind SRG's back after they introduced her to a different fragrance firm. The company's lawyer says, "SRG still loves Snooki and simply wants her to honor the contract she personally signed." Have they not seen Jersey Shore? What they're asking is of considerable magnitude. This is a girl who can't carry a bottle of wine home without dropping it or dance without her butt showing. And now they expect her to read and uphold the many and complex terms of a contract she signed?
Earlier: Video: Snooki Selling Perfume, Slippers, and Crocodile Plushies on HSN