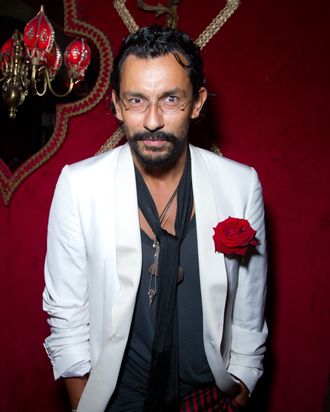 Haider Ackermann, who presumably does like corsages.
Photo: Victor Boyko/Victor Boyko
In conversation with WWD's Bridget Foley, Haider Ackermann laments (again) the relationship between fashion and celebrity style. In fact, he's got quite a laundry list of peeves to get off his chest —  though, of course, he's conflicted about sharing it with the media:
[Social media] is very difficult, because you have to question yourself, how much you preserve of yourself and how much you give to the outside world. I'm going through a very delicious time at the moment. People are getting so demanding, but you have to protect yourself…. Maybe I will change my way of thinking, but for the moment I prefer to focus on the message I will send.
And some of his other pet peeves … on red carpet dressing:
I think the volume that is going on with the red carpet is kind of a prostitution. You just throw the clothes to the people. I like to develop a relationship. Certainly in America it's very important that lots of actresses are wearing your clothes, and it helps your sales. It doesn't feel honest to me. If I haven't met a person before, if I don't know what she's about, if I don't have any connection to her, why should I do it?

Sometimes it's very difficult in this business, because as a designer you have the feeling you have to be a celebrity. It's almost as though it is you coming before your work. Now all the rules are changing. It scares me a lot, actually.
On the speedy cycle of fashion seasons:
I do believe time is the new luxury, because we don't take the time, especially in fashion. You don't ask a writer to write 10 books in one year. You don't ask a filmmaker to make six films a year. It's going to such extremes — you have a cruise collection, a pre-collection… How much can you squeeze from a person?
On branding, and big fashion firms:
In the big industry, they all think that every designer is replaceable. That is simply not true. Some designers have a soul.
Letting that all out was hopefully cathartic for Ackermann, who concludes the interview by assuring WWD that he's still content with his job (thank goodness).