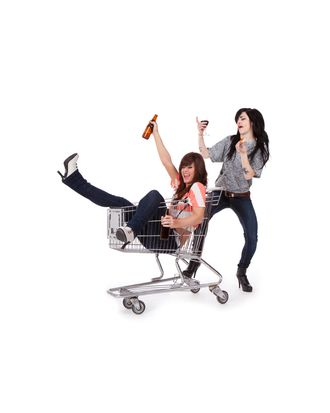 This is the only way to do Bergdorf, you know?
Photo: iStockphoto
Well, who hasn't gotten a little loose at brunch or happy hour and then stumbled into a store where, all of a sudden, you could justify buying things you hadn't been able to justify purchasing before? At long last, and just in time for Silk soy-nog (oh, and holiday shopping) season, research of the official kind has come out to prove that yes, when you were tipsy and spending money on apparel, there was a reason: You were relaxed, and relaxed shoppers, the Journal of Marketing Research reveals, are "willing to pay up to 15% more for goods than less-relaxed ones," The Wall Street Journal reports.
Retailers are no fools, and so more of them will try to get you drunk this fall than perhaps ever before.
Now, more stores and even shopping malls are offering new soothing amenities and services. Chief in their marketing plans: trays of complimentary cocktails and finger food, private events before and after regular store hours, and cushy seating nooks with free Wi-Fi and flat screens that encourage shoppers to linger. Some stores are dabbling just for the next few months; others are aiming for a more relaxing experience year-round.

"It's a subtle way to get you to buy more, and pay more for it," says Jeff Green, owner of retail consulting firm Jeff Green Partners in Phoenix. Using emotional marketing tactics is one more way that retailers, are trying to wean shoppers off the big discounts of years past, Mr. Green adds.
This tactic is commonly employed at places like Williams–Sonoma, where if they don't get you drunk, they will ply you with enough free samples to at least guilt you into buying something. Yet, the tactic can backfire, if it creates too much palpable excitement.
For all their plans, retailers' relaxation efforts may not soothe shoppers. All it takes is one stressful element — crowds, disorganized shelves, a pushy sales clerk — to snap people out of a relaxed state, Dr. Pham says.
So, that explains why Fashion's Night Out was never about stores actually selling things.