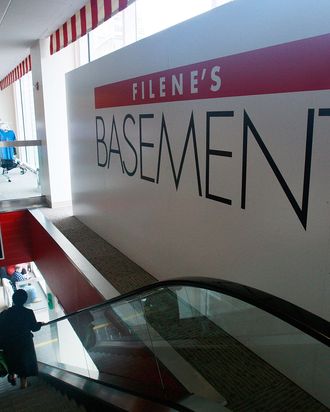 Photo: Mario Tama/2009 Getty Images
Having bought Filene's Basement at auction for $63 million in 2009, Syms Corp. filed for Chapter 11 bankruptcy in court in Delaware today. With assets of $236 million, the company announced plans to liquidate this holiday shopping season, having received no "viable bids" from parties who could successfully take over the business. Ultimately the stores were not able to compete with the rise of Internet sale sites and fast-fashion chains in the economic downturn. In the meantime, they were already trying to pull Filene's out of its own bankruptcy.
This means you can look out for some serious discounts at the company's 25 Syms and 21 Filene's Basement stores; going-out-of-business sales are slated to begin before Black Friday and continue through January of next year.
Syms, Filene's Basement Seek to Liquidate Clothing Chains in Bankruptcy [Bloomberg]