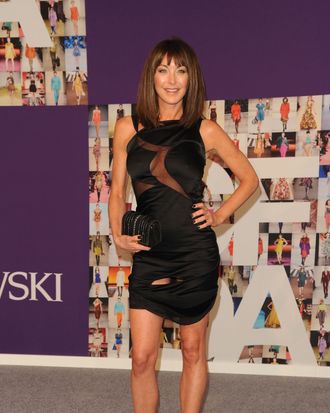 Tamara Mellon.
Photo: Andrew H. Walker/Getty Images
News of Tamara Mellon's resignation from Jimmy Choo broke this weekend, and although she hasn't spoken to the press yet, sources say she's plotting to start her own lifestyle brand, à la Tory Burch or Tom Ford.
The source said her ambitions had always stretched beyond Choo, and that money — and a high profile — are important to her.

In addition, after Jimmy Choo was sold to the luxury goods group Labelux in May, Mellon and other managers became salaried employees after cashing in their shares. And for those who have pocketed millions following private equity ownership, returning to life as a wage slave is often unpalatable.
Mellon, whose personal fortune is worth an estimated $240 million, is certainly famous enough to strike out on her own. She starred in the Jimmy Choo fragrance campaign, received an OBE last October, and has posed nude for Terry Richardson. (It's also of note that she was a former investor in Halston, but jumped ship during the mass exodus of Harvey Weinstein, Marios Schwab, and Sarah Jessica Parker from the label this summer.)
There's still no sign that Choo CEO Joshua Schulman, who also announced his resignation this past weekend, will join Mellon in her new venture. He has so far denied that he's teaming up with her on anything, and will stay at Choo through the rest of the year; Mellon, on the other hand, will leave at the end of the month. There's no word yet on what Mellon's supposed new label will be called (although signs point to an eponymous title), nor what its timetable will look like.