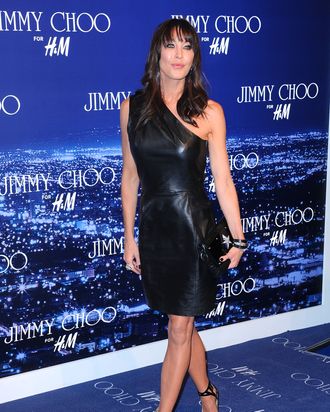 Tamara Mellon.
Photo: Alberto E. Rodriguez/2009 Getty Images
The Telegraph's Lisa Armstrong, a former co-worker of Tamara Mellon, reports that Mellon's recent departure from Jimmy Choo took the company by total surprise. "Her staff had no inkling and are still trying to fathom what happened — and how they'll replace her," Armstrong writes. Meanwhile, she confirms that Mellon still owns all rights to her name (one of the upsides of naming your company after someone else), and agrees with previous reports that she's likely to be scheming up an eponymous lifestyle brand. Moreover, she believes it'll be greatly successful, despite Mellon's colorful reputation.
There were her It Girl days; the high-profile wedding to Matthew, whom she met in rehab; following that, the equally high-profile divorce; the celebrity boyfriends; and the photo shoot wearing nothing but a kitten … Tamara is most certainly a handful. But write her off at your peril.

Admittedly, it was easy to do precisely that in her early days. We both worked on Vogue in the mid-Nineties, when Tamara was a fashion assistant who seemed permanently "exhausted".

When Mellon joined Jimmy Choo in business in the late nineties, she convinced her wealthy father to front her initial £150,000 investment, which initially raised some eyebrows about whether she'd be a serious businesswoman. But then the company took off, even after Choo himself departed under contentious circumstances, and Mellon became its poster girl. So, the moral of Armstrong's story: Getting people to underestimate you is a great business move! Also, Mellon is probably looking for new investors right this very minute.