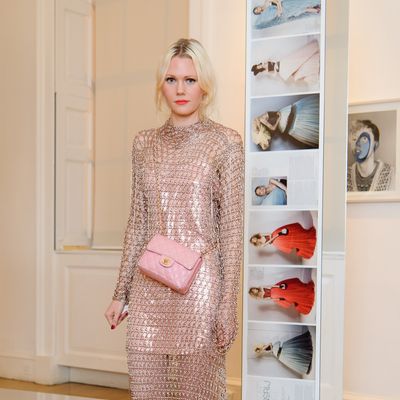 LONDON, UNITED KINGDOM - NOVEMBER 03: Katie Shillingford attends exhibition and book launch celebrating the monthly style title's 20th anniversary at Somerset House on November 3, 2011 in London, England. (Photo by Nick Harvey/WireImage)
Photo: Nick Harvey/2011 Nick Harvey
Working at Dazed & Confused is quite a party at the moment, with all sorts of events, exhibitions, and twenty different covers to celebrate the magazine's twentieth birthday. For our latest Tastemaker profile, we spoke with the magazine's senior fashion editor Katie Shillingford — responsible for many of Dazed's renowned editorials in recent years — about her creative process, wardrobe rules, and why her street style stardom often leaves her feeling overwhelmed.
How did you get your start in the styling business —  was it always something you'd wanted to do?
Well, I actually fell into the job. I was at Camberwell College of Arts doing graphic design, and I met Gareth Pugh while he was at Central St. Martins, and we became friends. When I left [Camberwell] I knew that I didn't really want to be a graphic designer — I didn't want to be doing page layout — but I was very interested in fashion magazines in particular, and I'd always been interested in fashion. So when Gareth finished, too, we started doing little bits and bobs together — projects that people would ask him to work on, because his graduate collection did so well. Nicola Formichetti had called in the collection and put some of the pieces on the cover of Dazed & Confused. It's an amazing shot — really, really iconic.
Then Nicola came onboard to help style Gareth's show at Fashion East. That's how I met Nicola, and then a few months down the line, Nicola was looking for another assistant and Gareth said, 'Oh, maybe you should hire Katie.' I really fell into it that way —  I didn't really have a lot of time to think about it. It was amazing and so inspiring working with Nicola. He's a very fun, energetic person.
What's your process with creating shoots?
Well, I never think of things as trends, and I wouldn't even say that Dazed follows trends. I would like to think that we set trends rather than follow trends. But I think you're very much inspired when you go to the shows and you see all the collections and you meet designers — you have to be! Little different things and ideas and inspirations rub off on you, ideas that kind of feed into your creative process until something comes out that you just feel 'fits.' Often I speak with Karen [Langley, Dazed fashion editor] and Robbie [Spencer, Dazed menswear editor], as we'll be seeing the shows and having chats in the evening or in between shows about what we like; our ideas start to develop throughout the season. Then you might just see a little thing, or you might think, 'Oh, this season I've been thinking about this, too,' and it might just be a picture of a postcard from, I don't know, a museum, or an old actress, or just little snippets here and there that come together. With all that running through my mind I normally come back from shows and I have a list of ideas that I want to pursue and then marry that up with the perfect photographer or team or designer or girl.
What were some of your favorite collections from the spring 2012 show season?
I think my favorite collection was McQueen this season. Sarah Burton is really just fantastic. That's not to say that the other collections since she's been designing haven't been strong — I've loved them all. But I really felt particularly strongly that it was her point of view; it really made sense and it was McQueen, but it was a really beautiful version, a goth, feminine, Sarah Burton McQueen. It just worked perfectly; I loved the kind of strength and the hardness of those masks against the soft, fragile, fluffy-textured pieces. That was a real high point of Paris for me.
Do you ever feel 'fashion fatigue' by the time you reach Paris?
Well, you're going around to all the shows and you're tired — no, it's great, but it can be so draining. But when you get to a show like [McQueen] it's really uplifting. At the same time, I really loved Prada, I love that kind of sexy retro. And I mean, I work with Gareth Pugh, obviously, so that was a high point for me; and I also work with Viktor & Rolf, so I love the kind of real life dollies that we created.
What are your thoughts on the current scheduling snafu between London and Milan?
Ultimately, I don't think Milan should overlap. I love the creativity of London; I think you find so many great, young designers who are either studying in London or showing in London, and a lot of times they [leave] to work in-house at a brand, and that's really sad. And a lot of people feel that they're forced to do that. There's only a few people who have recently managed to make London successful for themselves in terms of breaking out and then developing their brand also: There's Christopher Kane and there's Jonathan Saunders, although there are a new group of up-and-coming names, too, which is great. I think we need to have even more help from the greater industry.
Do you have any favorite models to work with on shoots?
I am a strong believer that the right casting is absolutely imperative. I would say the girl is as important as the photographer and the stylist and the hair-and-makeup team. There are models who I really love —  I love Karlie Kloss; I've never shot her, but I'd love to. I work a lot with her on shows. I've done a couple of things with Crystal Renn — to me she's a very editorial girl, not a show girl. She has just got such an amazing personality, and it brings so much to the story.
Do you think there needs to be more of a balance reached between celebrities and models covering fashion magazines again?
I'm interested in celebrities, so I'm interested in having them on a cover and seeing them transformed. The kind of actresses that we feature on Dazed covers, they're kind of breakthrough girls at that early point in their career. They're more excited about doing great things, interesting things, and getting their name out there. When the idea of 'celebrity' gets in the way of the creative process is when it becomes unexciting for me.
How would you describe your style?
I think my style is a natural thing. I would say that I do have style and I hope I do have a style, but I think that comes from the kind of person that I am. I think the best looks that I put on are probably the ones that are the most unconsidered. When I just chuck things on, that's when I think my clothes look their best. I guess people would probably say that my style is a bit gothy, but I don't intend to be that way. Again, because I wear a lot of Gareth [Pugh] I think people associate that, and me, with something gothy but I don't think it particularly is. I suppose I do wear a lot of black, but I like to mix things up — pieces I really love from a show with great vintage pieces.
Is that confidence something you've developed as a stylist and, you know, a tastemaker, or has it always been that way for you?
I think it's always something that I've had because I remember being at school and liking things that were a bit wrong and my friends going, 'Oh my god, you went to a [thrift store], how awful.' I have always enjoyed finding things that were a bit weird, a bit unique — and eye-catching. Those are just the things I like. But I would say style, my style — and this is probably what's taken time for me to realize, and maybe still don't always get it right, but — is about wearing things in a way where I feel completely comfortable. I think that's a good definition of being 'stylish' — even though you might be wearing something quite extreme, you feel very comfortable in it.
Where are some of your favorite places to shop at the moment, in London or abroad?
I always love Rellik, and there's a new giant Beyond Retro that's opened in Dalston — I live there so that's very handy. So that's pretty good. And then I also like funny little antiques market and things — Gray's Antiques Market is amazing, there's a particular vintage clothing store at Gray's Antiques Market that I 'm always finding wonderful stuff in. I often feel like when I'm in New York and Paris I don't really have time to shop, but I love going into all the vintage shops around Le Marais in Paris. When I'm in Milan, Corso Como is amazing but also very expensive, so I like to go to the sale shops around the Piazza del Duomo, which is always quite a ball.
Are you very protective with your wardrobe, or the type who has regular closet cleanouts?
I would like to think I'm protective of my clothes. But unfortunately I have a habit of just wearing things regularly and not having a rotation or anything like that. I should keep things preserved away in plastic, but I don't do that either. I generally just wear things out, because when I'm wearing something it's because I love it and then I often don't want to take it off. I guess I do pack things away if I think I've worn them too much, but yes, when I get something new I normally wear it a lot. About six months or so on and off and then maybe I'll give it a break.
Could you pick out a single favorite piece of clothing?
One of my favorite things that I've ever bought is a pair of Prada shoes — from their spring/summer 2008 collection I think. That season I bought a couple pairs of shoes actually, but my favorite one looked like it had a molded ornament on the heel, a floral ornament. The straps are purple velvet and they have gorgeous little green bows on them. I wear them so often. I probably shouldn't; I should  keep them in my cupboard or on a shelf on display, but I love them so much. I also have an amazing vintage Margiela suit-jacket. And I would have to say my wedding dress is another absolute favorite— Gareth made for me. Obviously I wouldn't wear to fashion week, or out even because it's so special. We worked on the design together. But it's been on a few blogs because images from my wedding proved much more popular than I anticipated!
Speaking of blogs, you're a bit of a street style star now. Is that 'status' something you find you're increasingly conscious of?
I'm definitely conscious of it — you can't avoid it nowadays. But I mean I never dress up for someone to take a picture of me and I don't think I ever would. I work with Gareth and I love his clothes, and I'm lucky enough to own a lot of his clothes. And I know that they're eye-catching and they'll get photographed, and I think that's great, and it's great for him. I think he would agree with that, so perhaps that counts as getting 'dressed up' with a purpose. But I don't think I would ever dress up for the street style bloggers. And sometimes I actually feel quite uncomfortable when you're going in to a show and it's literally packed like you're Britney Spears or something. I wear things because I like them and you know, and I dye my hair different colors because I like doing that, and it makes me happy. Really, there's no tactics with me. I don't think I have time to be so cunning really.