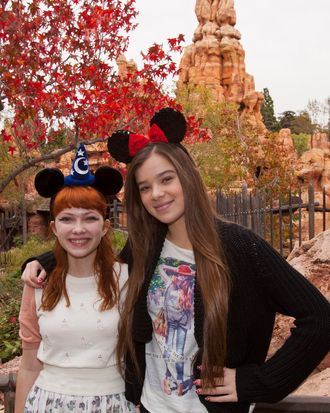 Tavi and Hailee, with nicely brushed pre-roller-coaster hair.
Photo: Paul Hiffmeyer/Disney Parks via Getty Images
The cold, gray weather in L.A. yesterday may not have been ideal for a visit to Disneyland, which made it perfect for a Disneyland photo shoot, since not many people were there. Tavi Gevinson and Hailee Steinfeld, who have expressed their mutual admiration for one another after they met at a Miu Miu event earlier this year, reunited at the park to get their photos taken on the Big Thunder Railroad roller coaster, which they apparently got all to themselves. Luckily for them, the photographer waited for the ride's more mellow moments instead of subjecting them to those embarrassing mouth-open-hair-everywhere-we're-plunging-to-our-death shots. It's probable that their adventure will be fodder for a forthcoming Rookie feature, but for now, we just have the pictures to speculate about.