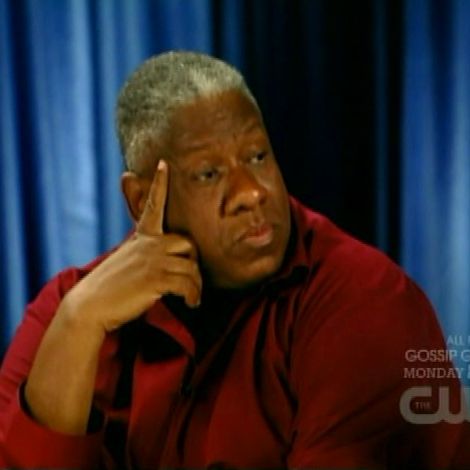 This week's first "Tyra Mail" sends the girls into a frenzy, as it suggests they're headed straight back to panel for another judging. But no, they haven't had nearly enough time to make fools of themselves —  it turns out they're just judging each other. This is a textbook-brilliant reality TV concept that should be employed more often, particularly in the later stages of the show, when the remaining contestants are so stressed and discombobulated that the slightest digs bring about tears, flailing arms, and meltdowns akimbo.
Led by Miss J — who's wearing a raggedy brown toga and an oversize curtain tassel attached to his hair braid — the girls politely critique each other at first, apparently unwilling to play hardball. (And they call themselves reality TV All-Stars, pah.) Allison, Laura, and Lisa all refuse to name their weakest competitor,  so it's left to Dominique to save the day by calling out Angelea as the group's bottom feeder. And with the first blood drawn, the situation escalates quickly. The girls all dog-pile on poor Angelea, who breaks eventually and storms out while calling the other models bitches, dumb-ass bitches, sneaky bitches, and more variations still. Somehow, Miss J manages to bring her back to the group after she's had a good cry. She promptly shuts the discussion down by labeling all the other girls as the weakest, and that's that really.
With all that madness said and done, the girls get to cool down with an afternoon on a yacht. Their chaperone is one of "Crete's biggest socialites" (a dubious title if there ever was one). She takes the girls out on a boat that's most likely not hers, feeds them producers' questions, and later takes them all out for dinner and drinks and tries to feed the models lots of shots —  most likely again at the producers' request. (A hot guy shows up briefly, but doesn't do anything interesting.) Clearly, this week's bitchfest of a challenge should have taken place after the contestants were liquored up, even if most of the models passed on the alcohol. Even Lisa —  so there you go, Celebrity Rehab really does work.
For their photo shoot, the final five re-create old-time Olympic sports. It's another Nigel Barker shoot — look for Nigel or Tyra to lens most of the remaining shoots, so that the Top Model team doesn't have to pay to fly any other photographers to Crete. Neither Dominique or Angelea know how to pronounce their sporting instruments; Dominique keeps calling her javelin a "javin," and Angelea calls hers a "put shoot," not a shot put. Coincidentally, they also struggle the most at the shoot itself. Literacy and modeling go hand-in-hand, you see.
The good news about this week's judging panel is that André Leon Talley is back on top form. He deals with a "terrible, terrible moment" when noticing a sunken heel in Allison's photo — that the ground was muddy is no excuse, of course; and he worries Dominique looks more "like a Masai warrior than an Olympic champion." Also, he pronounces the word champion as follows: "cham-pee-ooow-nh," just like RuPaul in his song of the same name. All his good humor is nearly ruined when Tyra mistakenly calls him Nigel, but he lets it slide off his cape like water off a fashionable duck's back. With no other surprises, it's Dominique and Angelea in the bottom two this week. Angelea's saved again, most likely because ALT loved her photo — and you know, all these close shaves are just reinforcing her "persistence," which, being her brand and all, is looking like quite the perfect long-and-winding-road-to-victory storyline. Dominique goes home despite her good photos because the judges kept forgetting her. (That she showed up to panel in way different shades of heavy foundation each week surely didn't help, because she often looked like different, if distantly related, people week to week.) So off she went home, where you'll all be thrilled to know she spent some time making ANOTHER music video. And it's a club classic, so put it on repeat starting now: "Top of the World".