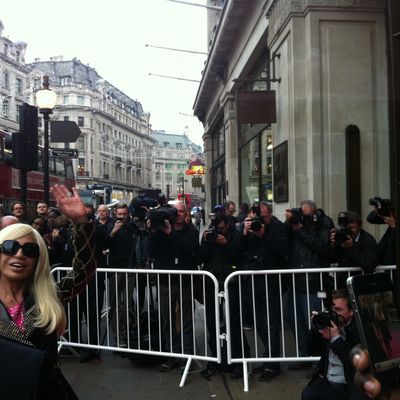 Donatella Versace's arrival
Photo: Katrin Rees
By 8 a.m. in London this morning, over 150 people were impatiently waiting for H&M's flagship store on Oxford Circus to open — though it wouldn't do so for another hour. Those at the front of line had waited overnight (since 9 p.m., to be exact). The first two spots were occupied by a pair of American students on a semester abroad who professed to be desperate for the collection's bright printed leggings.
A few blocks away at the Regent Street store, another equally long line covered the whole sidewalk. (Londoners on their walk to work were characteristically grumpy about this and pushed their way through the crowds, grumbling and causing a few minor scuffles.) At around 8:15 a.m., a bright pink carpet (to match the men's suit and shoes combo, naturally) was  rolled out for the arrival of Donatella Versace herself, scheduled for an in-store appearance for her collection's debut. Amazingly, Donatella actually arrived early, and was dressed head-to-toe in items from the new line: a gold-embellished black leather coat, a pink minidress, black heels, and a gold-studded black handbag.
The crowds in line went wild — even an older man who'd previously been rolling his eyes about it all, having been sent to wait by his granddaughters. Donatella posed for photos on the pink carpet, then walked around along the roadside to wave at all the regular-people-turned-screaming-fans. But it wasn't long before security whisked her indoors, where she waited until the official 9 a.m. opening and did a tightly controlled meet-and-greet with previously approved press.
Shoppers had been given wristbands (brightly colored ones, of course) to determine where they'd be shopping — the men's and womenswear sections were roped off separately. A ten-minute limit was also mandated, so that each group of shoppers would only have that long to make their selections. (Because, you know, they weren't crazed enough already.)
At 9 a.m. back at the Oxford Circus store, wristbands for all the time slots through 12:30 p.m. had been given out for shopping in the women's space, but there was no wait at all for the menswear collection. Brave H&M employees were replenishing stock as often as possible, but even with the time limits in place (and vague limits on the quantity any one shopper could grab madly during their spree), the scene was chaotic. Bestsellers from the men's pieces included the silky-sleeved bomber jacket Kanye wore to perform at the Victoria's Secret fashion show last week, as well as the patterned boxer briefs. In the women's section, everything sold fast. No one fought outright like they did in Shanghai, but there was lots of side-eyed glaring, and someone stood on my foot when they thought I wanted one of the last chunky floral rings on display.
— As told to Alex Rees