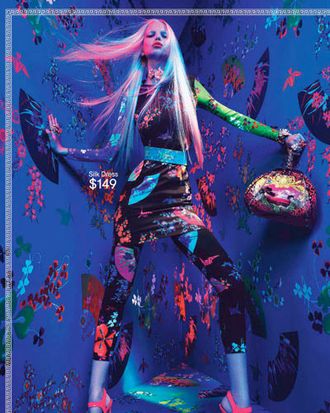 An ad for the Versace for H&M collection. What could Donatella have been worried about?
After months of waiting, a Nicki Minaj and Prince concert, and pre-launch eBay offerings to ensure its covetability, the Versace for H&M line hits stores this Saturday. While regular Versace fans bundle their sleeping bags and canteens, preparing for the long wait in line to finally buy the clothes, the Daily News is smarting over a feature gone awry. Having planned to shoot the line on "real NYC women," the story was scrapped, the paper reports, after H&M rejected the idea. Instead, the paper decided to run a story about the story they couldn't do.
The H&M publicist initially explained by email that the "Model New Yorkers" photo feature could probably not go forward because Versace had to approve "anyone who wears the collection for press" — and, she added, "Donatella will likely not approve shooting the collection on real women."

She was right. When the Daily News writer organizing the shoot sent the publicist photos of two of the three women he wanted to use — all recent college graduates who work in the city — the answer came back that only one was acceptable.

When the News writer asked for an explanation, he was told the woman who was rejected "doesn't fit [Versace's] branding."
The News goes on to note that H&M prides itself on dressing all kinds of people, not just those who fit into a certain label's "branding." The paper says the women chosen for the feature-that-never-was will still get to appear in its pages, in a feature about holiday party dressing that will run on Thursday. Maybe the editors can organize a protest in conjunction with that story's launch — Occupy Versace! Surely someone would be willing to come perform.
Update: A spokesman from H&M released the following statement about the Daily News story:
We are very surprised by the NY Daily news article and do not understand how they came to this conclusion. We can only explain it as a misunderstanding and a series of miscommunications. H&M is a democratic fashion brand and it is not our policy to decide models for fashion features in media. Both H&M and Versace have, over many years, cast from a wide and diverse pool, not only of models, but of celebrities and personalities reflective of all ethnicities, gender, ages and sizes.