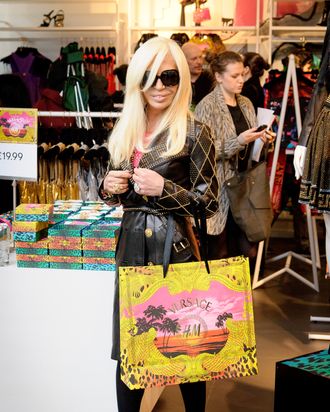 Donatella.
Photo: Nick Harvey/2011 Nick Harvey
We thought we knew that the pre-spring Versace for H&M collection would include some awesome shorts with fruit on them. We also thought we knew that the collection would hit stores in a couple of months, according to a story that was posted on WWD this morning, but which has since been removed. Huffington Post blogged about the article, though, so details are still available:
Women's Wear Daily reports that a spring pre-collection, designed by Donatella herself, will launch on Jan. 19th in countries that have an H&M e-commerce site.

Which means United Kingdom, Germany, the Netherlands, Denmark, Sweden and Norway, but no USA? NOOOOO.
If that's true, the annoying people who buy these collaborations just to put them on eBay might actually do shoppers here a service. But why H&M would be so secretive about line number two is a bit of a mystery. It's not like this is Beyoncé and she's having twin daughters. This is H&M and they're having two Versace lines.