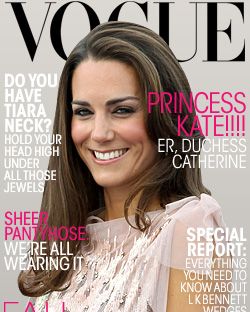 Obviously, this cover would bring in GREAT sales for 'Vogue.'
WWD called Anna Wintour a musketeer today, and that's a good thing. With new sales figures in, she's "riding high" again (alongside Vanity Fair's Graydon Carter and the New Yorker's David Remnick). The Audit Bureau of Circulations released data on newsstand sales through October of this year —  Elle, Harper's Bazaar, InStyle and Marie Claire all dropped between 10 to 14 percent from their previous year's figures, with Glamour taking the biggest hit at a drop of 17 percent. Vogue's numbers are up (the only fashion title in the ever-fashionable black) by 7 percent. As WWD notes, that's a 17 percent difference, in the magazine's favor, from any of its competitors.
So far this year, Vogue's March Lady Gaga cover is the best seller, with another five unspecified covers up year after year for their respective issue months. And despite recent cutbacks and flagging ad sales, Harper's Bazaar did the next best out of the fashion pack — with three of their first seven covers improving on 2010's figures.
Vogue's ad sales are also the strongest. The always huge September issue trounced others' numbers, and the magazine's figures are up by 8 percent for the first three-quarters of the year overall.