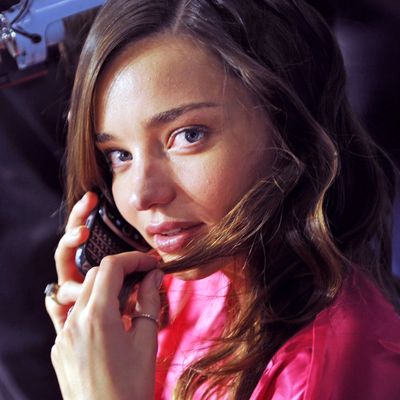 Miranda Kerr
Photo: TIMOTHY A. CLARY/AFP/Getty Images/2011 AFP
Backstage at the Victoria's Secret Fashion Show today, food was abundant. A long table outfitted with polished silver buffet pans offered hot pasta coated in creamy sauce. At the carving station, one chef sliced beef while another served thick sections of stuffed chicken breast. Adjacent to the main buffet, which was nicer fare than you get at  most weddings, was another long table overflowing with brownies, many kinds of cookies, and coffee. Anja Rubik swept through, wearing her bedazzled pink satin robe and black combat boots, to collect nearly one of each kind of dessert.  "That's cute! Yeah, with the strawberry!" one photographer said to three models next to her, who had decided to pose, creatively, by holding one of the chocolate-covered fruits up to their mouths . A cluster of flashbulbs fired away eagerly, savoring every bit of the action.
Past the food was another long table full of hair extensions of all shades. Models who weren't eating lunch or posing for photos were getting primped and doing interviews with reporters, who mostly ask the same questions. These include: "Is it hard to walk in those wings?" And, back to the topic of eating or not eating: "How does your diet change before the show?" And: "How did you lose the baby weight. You must have a secret!" If you simply ask one of the models, "How do you prepare for the show?" they automatically begin talking about their gym routines and diets. And they should be forgiven for this, because it's usually all the press really asks of these women — to reveal what it is that they do to look the way they do that we can all do to look that way ourselves. Reporters keep asking because they never get the answer, because outside of scientifically not-quite-there gene transplants, there is nothing non-Victoria's Secret models can do to look like them. And that is why those women are special.
Though Adriana Lima told a reporter this week that she goes on a liquid diet nine days before the show, she consumed solid food from a paper Starbucks bag while she was sitting in her makeup chair. Fellow Brazilian and show veteran Alessandra Ambrosio was walking around with a plastic bottle full of green juice. "I could never think about not eating," she says. "I have these juices right here. On the first day people thought I was doing a fast. I was like, no," says Ambrosio. "I get really cranky when I don't eat."
Constance Jablonski doesn't think people should be critical of the show for promoting, to many, many millions of people, an unrealistic ideal of what makes women's bodies sexy. "Obviously we are all real and we are just doing our best at having fun," she said.  "I don't know, I'm really happy and proud to be on the runway, so I don't feel like it should be a problem. Everybody wants to be happy and beautiful. [The show's] fun, right?"
Across from Jablonski sat Miranda Kerr, who spent much of her hair and makeup time telling reporters about breastfeeding and the $2.5 million "fantasy treasure bra" she will wear in the show (she never slipped and called it anything other than "fantasy treasure bra"). But Kerr got to answer one unique question: "What do I collect? Teacups. Antique ones." Meanwhile, her makeup artist told a tape recorder about the importance of face powder. "The look is transparent skin," he said. Behind him in the corner was  a small area concealed by blue velvet curtains with a sign out front that read "BRONZING." No reporters were allowed in there.
South African model Candice Swanepoel, who grew up on a dairy farm in South Africa, feels like the media spends too much time asking her and her fellow models about pre-show diet and exercise. "It's always the first question: 'So! What have you been cutting out?'" she said. "I understand the speculation because [the show] is about our bodies and we take such good care of ourselves so people want to know how." But, she adds, "They want to think that you're unhealthy."
So what hasn't she been asked that she's been hoping to talk about? "Nothing."