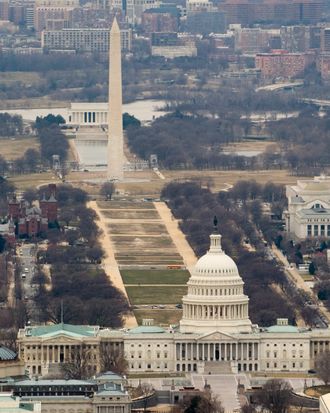 Stylish?
Photo: Saul Loeb/AFP/Getty Images
Here's something random: Washington, D.C. ranks as the nation's top city in terms of spending on wearable items, according to a new study. Marketing researchers at Bundle.com examined U.S. Census spending data, credit card company information, and "third party data providers" to determine the country's most "shopaholic cities"; they discovered that the national average expenditure per person each month for clothing, accessories, and footwear is $142.08,  but D.C. residents' average is almost twice that at $263. This seems a bit ironic, given D.C.'s reputation for homogenous (and what some might call bland) officewear, but hey — maybe it's very nice officewear.
Here's Bundle.com's list of top-ten cities in terms of monthly clothes expenses per person. Analysts believe that major shopping cities like New York, L.A., and Chicago didn't make the cut because their metropolitan areas include some of the nation's poorest people as well as the wealthiest, bringing down their overall average.
Washington D.C.: $263/month
Arlington, Virginia: $254.58/month
Nashville, Tennessee: $251.17/month
Scottsdale, Arizona: $243.17/month
Dallas, Texas: $228.58/month
San Francisco, California: $227.42/month
San Jose, California: $221.17/month
Seattle, Washington: $221.17/month
Austin, Texas: $213/month
Bakersfield, California: $201.50/month