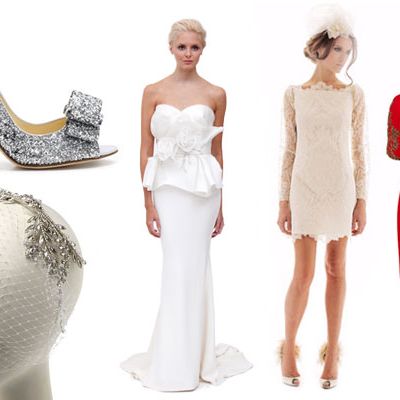 Today is 11/11/11, a date that only occurs once every hundred years. And this being a Friday, it's especially popular for weddings. Brides magazine estimates more than 46,000 weddings are taking place in the U.S. today, which is ten times more than a typical Friday in November. Apparently, couples are drawn to the date because, like birthing children, it's a thing they get superstitions about. "With 11, you have the significance of the number one — two becoming one, the 'number one marriage,' one soul mate, finding 'the one,'" Jackie Lebowitz, assistant managing editor of Brides, told ABCNews.com, somehow forgetting to mention the Beyoncé song about one plus one equalling two. Couples apparently booked chapels in Vegas two years in advance, which would seem to defeat the purpose of Vegas as a destination for people who want to get married without planning anything. If you're not getting married today but you've got a wedding in your future, you might appreciate a little shopping help from our latest Shop-a-Matic, which rounds up the best and latest in bridal gowns, bridal accessories, and bridesmaid dresses. And even if you're not planning a wedding, bridal stuff is always fun to look at.
Belle by Elizabeth Fillmore
Price: $4,785
Why We Like It: While lace sleeves are certainly popular after the royal wedding, this version of the look is updated with a shorter hem – ideal for a casual destination wedding.
Strapless Silk Peplum Gown by Marchesa
Price: $5,995
Why We Like It: Not everyone is a big ball gown type so if you're not choose a gown that is both romantic and modern with it's sleek lines and feminine rosettes. The peplum at the waist helps balance the proportions and it just happens to on-trend as well.
Charm by kate spade
Price: $325
Why We Like It: Even if your shoes are hidden underneath a long dress, it's hard to pass up a chance to add on some sparkle. Plus the lower heel is manageable for a long day on your feet but still adds just enough height.
Crystal Laurel on Veiling by Jennifer Behr
Price: $650
Why We Like It: While traditional veils will always guarantee drama when walking down an aisle, a smaller birdcage with oversized rhinestone accents can be even more glamorous. Just imagine the photos.
Embellished-Sleeve Dress by Topshop
Price: $175
Why We Like It: Standard bridesmaid dresses are usually better suited to large wedding parties where members may vary in body types but if you happen to have one or two bridesmaids why not be adventurous? This beaded red number is understated enough not to detract from the bride but still manages to radiate personality.