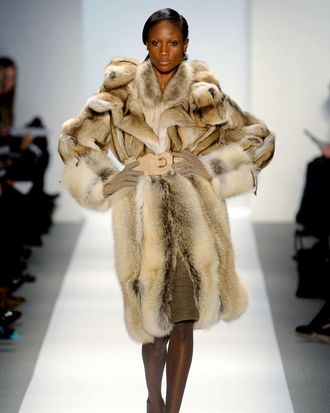 Dennis Basso, fall 2011.
Photo: Alessandro Lucioni/Alessandro Lucioni
The same city council that was the first on the continent to outlaw declawing cats has taken its support of furry creatures one step further with a ban on sales of fur fashion items. In a three to one vote, West Hollywood's governing body outlawed sales of "any article containing fur found on the body, including clothes, belts, hats, shoes, gloves and scarves," explains WWD.
The term "fur" broadly applies to animal skins with hair such as mink, shearling, fox, chinchilla, rabbit, seal and bear, but doesn't apply to leather. Furniture is exempted from the ordinance, as is fur apparel sold by vintage stores, private parties and nonprofit groups. After the ban's enactment, the penalties for selling fur apparel products will be warnings and fines.
Though West Hollywood has a population of only 35,000, the ban worries pro-fur people because many fancy stores are located in the area, like Kitson, Balenciaga, Alberta Ferretti, H. Lorenzo, and Maxfield. They have until September 21, 2013, to rid their shops of fur items (more than ample time), after which they could be fined. The city council may hope that the fur ban has the same effect as the cat declawing ban, which was enacted by seven other cities after West Hollywood.
The Fur Information Council of America plans to fight the ban, perhaps with an argument about how detrimental it would be to the area's economy. A study commissioned by the organization found that sales of fur apparel exceed $2 million each year, and that around 46 percent of retailers in the area carry some type of fur item (fur being defined more narrowly in their study than in the new ban). Maxfield already sent an outraged letter to the mayor of West Hollywood.
"We believe that the right to exercise personal choices extends to the choice to buy, wear and sell fur," wrote Deirdre Wheaton, general manager at Maxfield. She continued, "When the city council takes the freedom of the market away from retailers and their clients, it seems to beg the question — who will be affected next?"
Real estate agents add that the ban may prevent prominent clients from opening stores in the area. And the question still remains of how West Hollywood dwellers will stay warm in all that 60- and 70-degree weather.