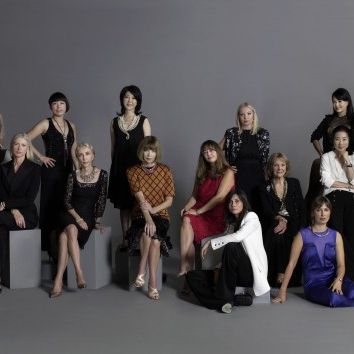 Don't look so excited, ladies.
All the international Vogue editors gathered together in Japan this week for the country's first-ever Fashion's Night Out. To prove it really happened, they took a carefully posed group photo (with Anna Wintour, Emmanuelle Alt, and Alexandra Shulman front and center, obviously). From left to right: Yolanda Sacristan, Spain (seated); Kirstie Clements, Australia (middle); Anaita Adajania, India (back); Christiane Arp, Germany (seated); Angelica Cheung, China (standing); Franca Sozzani, Italy (seated); Mitsuko Watanabe, Japan (standing); Anna Wintour, U.S. (seated); Emmanuelle Alt, France (reclining); Alexandra Shulman, U.K. (seated); Victoria Davydova, Russia (standing); Anna Harvey, representing Brazil and Greece (seated); Seda Domanic, Turkey (seated); Myung Hee Lee, Korea (seated); Rosalie Huang,Taiwan (standing); Eva Hughes, Mexico and Latin America (standing), and Paula Mateus, Portugal (seated).
We certainly know what Turkey's Seda Domanic was thinking: "Of course that note about the purple dress code was a joke! Blast, this floor is uncomfortable." But what do you think was going through everyone's heads? Let us know in the comments.