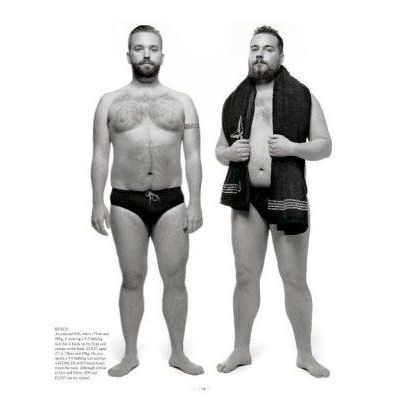 A 'Fantastic Man' editorial showcasing a shapely male physique.
Few issues in fashion rile people up as much as diversity. From race to size and shape, the industry is consistently tasked with expanding and defending its narrow view of beauty. Men have clearly not gotten the same consideration as women in this arena. If they had, we might not have to wonder: Where are all the plus-size male models?
Over the past two to three years, plus-size female models like Crystal Renn, Marquita Pring, and Robyn Lawley have conquered high-fashion covers, editorials, ad campaigns, and runways. But we've all ignored the blatant absence of plus-size men from all that media.
"I don't know anyone who has one," says Gene Kogan, an agent from DNA model management, of plus-size male models.
"I never really thought about it until you asked me," another agent, Lindsey Le Garrac, from Soul Artist Management says.
Well, have you? Ignoring men as fashionable people is almost an instinct. The star of the royal wedding was not Prince William – it was Kate Middleton. We seldom evaluate male celebrities in terms of their style, thinking, "Oh, I love him! He has the best taste in clothes!" Few would deny that men deserve stylish clothes and the ability to be interested in them without being perceived as weird. But don't men of all shapes and sizes also deserve to be seen as beautiful, inside and out, when getting dressed?
For Greg Chan, a men's booker for Wilhelmina, the question isn't whether men deserve that, but whether it can even be true. "Women's 'plus size' is based on the fact that curves can be sexy," he writes in an e-mail. "The equivalent of curves on a man is a beer gut and love handles and that's not sexy, unless it's the movie Hitch or something with Jack Black" (which not everyone thinks of as sexy, anyway).
Kogan from DNA says he and his colleagues don't represent any plus-size male models because "there's no demand for it," adding, "we're only providing a service; if there is a demand for it, we will provide for that. We're not opposed to it on a principled level. But if we took on those models, they're going to not work."
There is a very, very small market for big-and-tall models, but not nearly enough to make it a full-time career for any one man. The size requirements for a big-and-tall model, like a plus-size female model, are not as stringently defined as their thin counterparts, but are generally considered to be around 6'3" or taller with a size XL shirt. (Straight-size male models are generally around 6'1" with an approximately 32-inch waist, and they must fit into a men's sample size, which is a medium.) But most big-and-tall models, many of whom are ex-athletes, have more of a muscular, well-proportioned build than soft, pudgy figures. The gigs these guys tend to book include some print advertisements, catalogues, fit modeling, and the rare fashion show. The work is only made available by a small number of labels that offer big-and-tall clothing, like Sean John, and retailers who sell it, like Rochester Big and Tall.
Colin McNish, 51, is a former big-and-tall model who now provides personal protection for celebrities (he declined to name who). He prides himself on being well-dressed and interested in fashion, but more often than not, he can't buy clothes off the rack that fit his 6'9" 285-pound body. "You walk into stores, you want to buy, and a three-XL looks like an XL," he laments. "They don't have men modeling; they have boys modeling. And they say it's men's clothing. No, that's boys' clothing."
Gwen DeVoe, the creator of full-figured Fashion Week in New York and former plus-size model herself, thinks a plus-size men's fashion industry – or at least a bigger big-and-tall market – has a chance. But right now, "there's nothing to model," she says. "Someone has to create the industry."
For that to happen, all kinds of men would have to vocalize an interest in fashion. "Number one, we need the big and tall guys to have a louder voice, and that's what we did with plus-size female models," she says. "Just like women, men want to see what clothes will look like on body types like their own."
Discerning male shoppers, just like women, crave a hint of realism in fashion imagery from time to time. "Everyone's looking to find someone who represents themselves in some way or another," says 31-year-old sometime big-and-tall model Jermain Hollman. "I would like to see bigger, more athletic-looking models." At 6'5" and 230 pounds, Hollman has been booked by modeling agents for jobs, but never signed by them. He would love to model full-time, and is always looking for representation, but thinks that the most a big-and-tall model can make out of the job is a "decent side career." "Maybe designers or whoever like the way clothes fit on [straight-size] models," he adds. "Men my size would like to wear those clothes as well."
Hollman is hardly the only man who suggests a sizable market share remains to be seized by clothing makers willing to cater to — and market with — big dudes. Tom Brady, who has lucrative deals with Ugg and Under Armour, and has plugged Ermenegildo Zegna is one big, tall, manly spokesmodel lots of men in this country respond to. Brady's endorsement of Ugg prompted a long essay by ESPN writer David Fleming, who describes how the Patriots quarterback completely changed his view of the footwear. "Girlie, fuzzy boots on the NFL MVP — really?" he begins. But he decided to reconsider after Brady passed what "might be the best thrown football I've seen in 15 years." He then decides that wearing Uggs are akin to wearing "a Jay-Z rhyme on your feet," and that, "the second you put them on you don't care what they look like, or what you look like, anymore. You don't care about anything." As attractive and well-toned as top male model Noah Mills is, it's hard to imagine him inspiring the same reaction in that type of shopper.