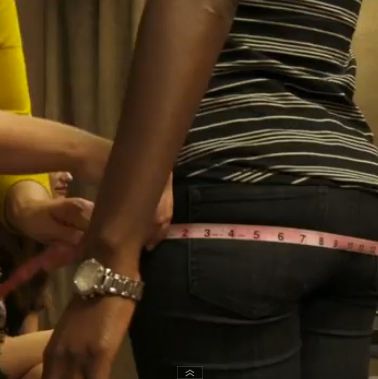 Last night, E! premiered Scouted, the latest attempt to turn the modeling business into a television show, despite the medium's resistance to anything in the genre but Top Model. This show is unlike Top Model in many respects, especially in that it lacks any intended goofiness, but not in the core concept, which is to follow girls who scouts invite to go through certain exercises, to see if they can get signed by a New York agency. This season, the agency partnering with the show is One Model Management, who decides at the end of each episode whether or not to sign the two girls brought in by the "scouting office."

The show is the brainchild of Michael Flutie, a chief architect behind one-season wonder America's Most Smartest Model. He has been in the business of representing models and related sorts of talent since the eighties, and has worked with everyone from Cindy Crawford to Stephanie Seymour to the Queer Eye for the Straight Guy cast (current clients include Dani Stahl, who appears in the new series as a stylist for the scouting office). "This show has been my baby and my passion for the past six years," says Flutie, who pitched Scouted beginning in 2006 until E! picked it up. He is emphatically "passionate" about the modeling industry and talent representation, and insists that what makes a model successful is not only physical attributes and her ability to perform in front of a camera, but also her "inner beauty."
In Scouted, scouts in places like Dallas and San Francisco, who work for local modeling agencies in their respective cities, find girls to send to the scouting office — a fictional device created for the show — in New York. We watch as a hopeful is given the side-eye once she says she's 29, and as another's butt is wrapped with, judging by the scouts' expressions, a little too much tape measure. "Do you mind walking for us so we can see if you have any natural ability there as well?" Dallas scout Page Parkes instructs aspirants. You would hope if they made it in the door that, yes, they would have the natural ability to walk back and forth.

The ones pretty, poised, and reality TV–friendly enough to get past this first phase must then endure private meetings with scouts, maybe a go-see or two, and then the episode finale, a glamour shots–style photo shoot in New York. Intermittently, we are treated to incisive commentary from the New York scouting office's team, like this from Stahl: "Her measurements are sick." Surely, she's not being literal, but judging by many runways these days, one can never be too certain.

Scouted not only goes up against Top Model for viewers, but also all the reality shows about models that have aired over the past decade and failed to survive more than a couple of seasons. And not all the shows that have failed were truly bad or lacking entertainment value. Some of them, like Vh1's The Agency, which I sorely miss, gave audiences gripping and authentic-seeming views of the bizarre way the industry is run. Agents on that show regularly called out aspirants for their physical faults, from big chins to fat hips, fiercely negotiated contracts with clients, and went on desperate searches in Middle America for new faces. They hardly ever found anyone to sign because the physical requirements for modeling are so stringent. Most people are too fat, too chinny, or too short to do the job. And audiences enjoyed the perverse thrill of watching the rejection, along with the reminder that this is an industry with wildly unrealistic standards, to which holding ourselves makes so little sense.
"I can only hope that there's an audience that likes a Cinderella story because this is what this show is about," Flutie says of Scouted. Audiences do like a Cinderella story, but that is not what the modeling industry is about. It's about rejection, resilience, and determination — success is such a small part of the business. Top Model succeeds because it is Tyra Banks's brilliantly orchestrated weekly exercise in hilarious fashion-pegged stunts, and it is aware of its own fiction. Where Scouted is likely to encounter trouble is in its refusal to acknowledge that modeling is not about the fairy tale, overnight creation of a Victoria's Secret Angel. The business is brutal. Can you blame television viewers for being so hard on it in return? Ahead, watch a clip from Scouted and take a look back at the failed modeling shows of yore.
Janice Dickinson Modeling Agency
This show ran for a respectable four seasons, but on Oxygen. It documented Janice Dickinson's shenanigans as she ran her own modeling agency, which may or may not have just been a device for the show as opposed to a real establishment. Highlights, aside from Dickinson acting generally ridiculous, included her encouraging the hot men on her board to strip for shoots. 
8th and Ocean
This wonderful Hills-esque MTV show, which followed models in South Beach trying to get work, only lasted for ten episodes, and included plenty of gratuitous bathing suit footage, but not enough scintillating faux-drama to hook viewers.
Make Me A Supermodel
Bravo's version of ANTM, this competition show followed men and women, which alas wasn't enough to distinguish it from what Tyra already does so well.
America's Most Smartest Model
This show, which asked models to prove their intellect by performing various tasks, like walking and saying things at the same time, lasted only one season. Toward the end of the season, as more and more models were elimanted, the episodes got boring because the remaining contestants were actually kind of smart, which does not good reality television make.
Manhunt
Another version of ANTM, which aired on Bravo, but with men only. Though it managed only one season, contestant Matthew Lanter went on to some fame with a role on the current iteration of 90210.
She's Got the Look
TV Land aired this series, which was like ANTM but for women over 35, for three seasons. Its duration was compromised from the beginning since TV Land is one of those networks that is hard to remember exists, especially for the audience that tends to be interested in model reality shows.
Model.Live
This is the online model reality show that aired on Vogue's website. It followed up-and-coming models who booked real jobs, like the Miu Miu show, and cost about $31,000 a minute to produce. It's duration as a series mirrored its seven-minute episode format.
Modelville
This Top Model spinoff sought to explore the great and varied world of what goes on in model apartments. Tyra chose five ex-ANTM contestants to live in an apartment in New York and try to get modeling jobs, with the girls forced to compete with each other in contests from time to time. One season culminated with Dominique, who went on to get cast in ANTM All-Stars winning a contract with Carol's Daughter. It ran a respectable four seasons.
The Agency
Hands down the best modeling reality show ever, this Vh1 classic was about the utter lunacy that goes on in modeling agencies. It was raw, it was chilling, and it was, it seemed, real.
Big Sexy
TLC follows plus-size models! This show is new and I don't watch it. Do you?
Scouted
E!'s attempt to Cinderella-ize the industry. With luck it will last more than a season or two.