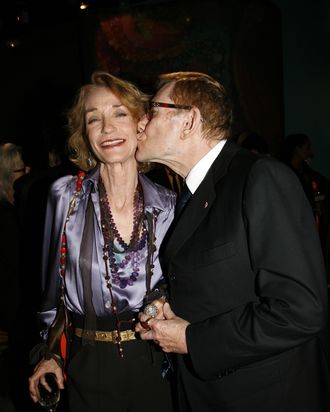 Loulou de la Falaise and Yves Saint Laurent in 2006.
Photo: Eric Ryan/Getty Images
Loulou de la Falaise, collaborator and muse to the late Yves Saint Laurent, died on Saturday in her home in Vexin, France. The cause of her death has not yet been announced. She was 64.
Descended from an aristocratic French family, de la Falaise was born in England and rebellious  from a young age. She was expelled from several fancy boarding schools  before she married and then quickly divorced Irish nobleman Desmond FitzGerald, amid scandal. She later claimed, "I was a divorcee at 21. I thought it was the most glamorous thing in the world."
De la Falaise first met Yves Saint Laurent at a tea party in 1968. She moved to New York and began working for him in 1972, designing jewelry, accessories, and clothing for his haute couture and ready-to-wear lines. Her taste for bright, chunky gemstones became a YSL trademark; she also served as the designer's muse, inspiring several of his signature pieces like the "Le Smoking" jacket. Saint Laurent once described her:
Loulou's true talent, other than her undeniable professional qualities, is her charm. Unique. Moving … She has an extraordinary lightness of touch, along with a faultless critical view of fashion. Intuitive, innate, individual. Her presence at my side is a dream.
Of her status at the fashion house, de la Falaise initially rejected her "muse" label, claiming that it trivialized her design work. However, in 2006 she said she had come to terms with it:
To me a muse comes to have tea and cookies and a chat, and looks frightfully smart, then goes to a cocktail party. I didn't see it as someone who worked as hard as I did … But now that Saint Laurent is part of history, it makes me a part of history, so, yes, finally it's not such a bad thing to have been a muse.
She remained a part of the designer's social and creative life for decades, accompanying him to events and clubs during his hard-partying days in the seventies and creating hundreds of pieces of jewelry per year for the label. When Saint Laurent retired in 2002, she left as well, later opening a small, short-lived label of her own. She also briefly ran two boutiques in Paris and designed jewelry for Oscar de la Renta and HSN. She is survived by her daughter and husband.