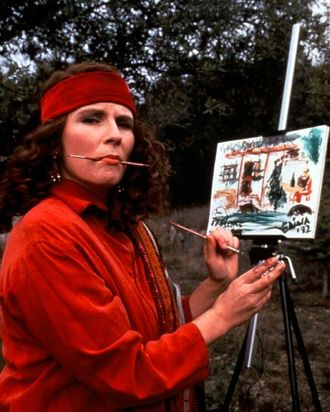 Edina
Photo: Comedy Partners
Absolutely Fabulous breezes back onto television for three special episodes in honor of its twentieth anniversary later this month, with appearances by such luminaries as Stella McCartney and Elly Jackson from La Roux. WWD sat down with the woman who inspired the character of Edina, Lynne Franks, one of London's most prominent fashion publicists. It's not like she's sitting around thinking about how she could have totally been more involved in the series or anything, or that she wasn't as ab fab on the show as she is in real life.
"I like to think that my taste in clothing was marginally better than Christian Lacroix," says Franks, referring to crazy Eddie, who was often stuffed like a pork sausage into the designer's bright duds. "But the show was pretty spot on, actually."
To be fair, the show aired long before Lacroix's Desigual line came out, so what is she really trying to say here? That really, these many years of reflection have brought her to the realization that the mistake actually lies within herself?
Franks says she regrets never having taken [show creator Jennifer] Saunders — an old friend of hers — up on the offer of appearing in the original series. "By the time it came out in 1992, I had sold my company and was going through a huge life change," says Franks, who founded Lynne Franks PR when she was 21 and sold it two decades later. "Jennifer had been a friend, and I was being oversensitive and silly. I loved watching the show and I really regret not taking part."
Hear that, kids? If someone asks you to be on TV, just say yes. Then again, indulging our own egos is much more a part of our DNA than it was in previous generations.