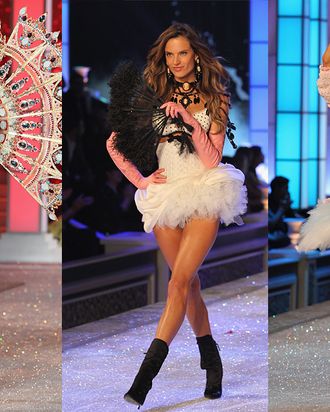 Alessandra, not looking pregnant at the Victoria's Secret show last month.
Photo: Kevin Kane/FilmMagic
Alessandra Ambrosio announced earlier this week that she's four months pregnant, meaning she was over two months along when she walked the Victoria's Secret runway wearing little more than some strategically placed rhinestones last month. It turns out that her infinitesimal weight gain — a "few pounds," according to her — was actually cause for some alarm at the time. 
Ambrosio tells Us Weekly:
When I first found out I was pregnant I thought, 'Oh my gosh I don't think I'm going to be able to walk on the show,' and I didn't tell anybody so no one knew at the show that I was pregnant … A week before, I told my booker I don't think I'm going to be able to fit into the clothes because I gained a few pounds already, but we were just quiet. I cut all the sugars and sweets 10 days before and I got my trainer — the one I usually get — and we were doing lots of glutes and arms and back exercises.
While cutting out sugar and exercising during pregnancy — particularly in the first trimester — hardly puts the baby at risk, it's sad that just a few pounds, regardless of their source, merited serious concern. But Ambrosio (who is 30 and already has a 3-year-old daughter) now says that the pregnancy is going swimmingly. "I love being pregnant! My body loves to be pregnant. I don't feel nauseous. I get a little more hungry but I just feel great."
Earlier: Alessandra Ambrosio Is Four Months Pregnant