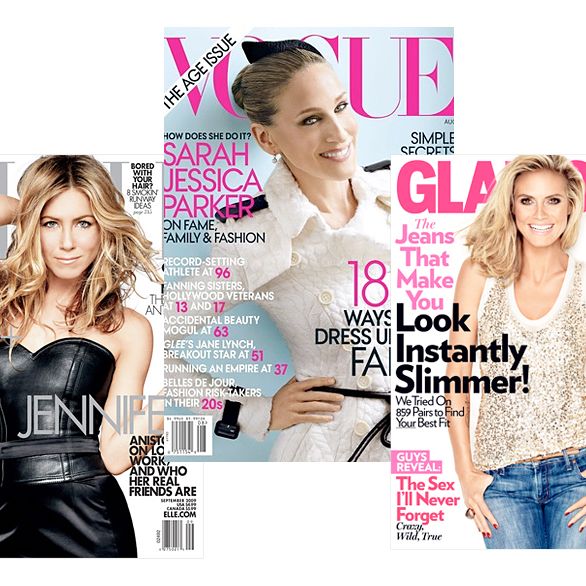 Photo: Elle, Vogue, Glamour
'Tis the season for banal lists and rankings, but today brings one that we actually look forward to each year: Which celebrities sold the most fashion magazines in 2011, and who sold the least? The bestsellers aren't terribly groundbreaking: Jennifer Aniston, Heidi Klum, and Sarah Jessica Parker all did exceedingly well on newsstands. SJP's Elle, Vogue, and Marie Claire covers were the second or third best-sellers for each publication; meanwhile, Heidi Klum's Lucky and Glamour covers were both magazines' second best performers, and Aniston gave Marie Claire its best-selling issue in July and turned out good numbers for her November Elle. Which is rather disappointing, really — last year's best-sellers (Lady Gaga, Lady Gaga, and more Lady Gaga) marked a refreshing departure from the pretty, blonde, America's sweetheart types whose Crest-bleached grins have sparkled up at us from newsstands so predictably.
Not that Gaga doesn't still sell, of course, but her covers this year garnered mixed results. Her March Vogue and May Harper's Bazaar covers were the second and third best-selling issues for each magazine, respectively. However, it appears that her toned-down look doesn't have the same effect: Her October Harper's Bazaar cover, which showed her with minimal makeup and no clothes, was one of the publication's worst performers of 2011 (its lack of appeal also may have had something to do with burgeoning Gaga fatigue). 
If it's any consolation, the year's worst-sellers were of the cute, blonde variety as well: Reese Witherspoon's covers did consistently poorly, marking below-average sales for Vogue, Marie Claire, and Glamour. Michelle Williams didn't do so well for Vogue or Marie Claire, either. Other newsstand downers were Fergie and Brooklyn Decker (WWD issues this withering advice: "Moral of this story, Brooklyn: Stick with Sports Illustrated"). 
But wait, who are we missing? Who was on the rest of the magazine covers this year, sometimes with her sisters, often showing cleavage, and once even wearing sheet music? That, of course, would be the ubiquitous Kim Kardashian, who brought in mixed sales across the board. Her covers of August's Cosmopolitan and February's Glamour were both top-sellers, while her issues of Harper's Bazaar, Self, and Lucky were just average. WWD reports that sales of her December Marie Claire cover and January 2012 Glamour aren't looking too good so far, although specific results haven't been announced yet. So perhaps — just perhaps — Kim will be the Blake Lively of 2012: taking a bit of a break, and none too soon.