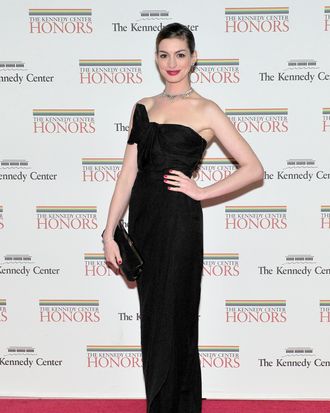 Anne Hathaway.
Photo: Pool/2011 Getty Images
Anne Hathaway's wedding will surely be of the fairytale princess variety, because she plays one in movies and looks like one when she gets fancy in real life. The speculation over her wedding dress won't be as stressful as the speculation over Kate Middleton's, but it might come close to the speculation over Chelsea Clinton's. Valentino would be a natural choice since she wears his clothes well and they love each other. "I am so happy for Anne. And I would do my best creation for her," he told People. "She's a lovely person. She wears the clothes very, very well. So I would do something special … but I cannot say exactly which type of dress." Rachel Zoe, her stylist, has indicated that she plans to sit down with Anne for some good bridal fun, thereby reaching the pinnacle of their girly times together. But Claire Danes, she has some advice for fair princess Anne.
"Take a sleeping pill the night before the wedding," she suggested strongly. "Because I could not sleep. Nobody can sleep. You're so 'adrenalized.' So get a little help."
You know, since everybody knows that when celebrities do things — like carry Birkin bags and wear Uggs — that means we should do them, too, let's all give Anne Hathaway wedding advice! Claire may suggest sleeping pills, but is there another type of medication she should be looking into?