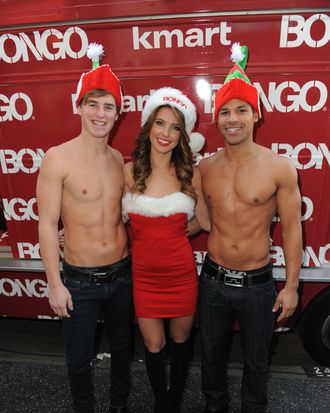 Audrina and gratuitously shirtless guys in elf hats.
Photo: JordanStraussPhotography.com/Jordan Strauss/WireImage
It was only this past Tuesday that The Hills' Audrina Patridge, dressed as a "sexy Santa," was merrily being driven around Los Angeles in a special Bongo-branded cupcake truck — of course, with shirtless men in tow, because that's how L.A. works. But perhaps the cupcakes were a little dry for Audrina's liking, because she announced today she's quitting her position as the brand's spokesmodel. "Nothing lasts forever, so it's all good,"she said in a blasé statement to People StyleWatch. But Patridge isn't finished with the apparel business entirely, and has plans to start her own line next year. It'll either be lingerie or bikinis (a tough decision, indeed) and, lest you think she's not taking the endeavor seriously, she says she's even asked for a sewing machine for Christmas.