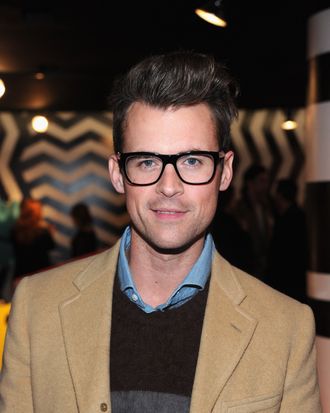 Brad Goreski.
Photo: Jamie McCarthy/2011 Getty Images
Brad Goreski would have to one day spread his bow ties and soar into the great unknown of being a self-employed stylist — but on television, of course, because he's so good at being on television, seriously. We will get to see where his bow ties and quips are taking him on January 2, when his show It's a Brad, Brad World debuts on Bravo. The Daily Beast has the tantalizing details:
The show opens with Goreski looking for jobs. His only client in this episode is the actress Jessica Alba, who doesn't appear on the show. He styles Keri Hilson for the Costume Institute Gala, and oversees a few editorial shoots, but his days are slow, and we follow him as he plays with his dogs, Penelope and Jasper, relaxes at home with his boyfriend, changes the sheets, and makes frequent trips to Physique 57.
Now, when Brad left Team Zoe, she started talking frequently on her show about how she felt so wronged by Brad leaving and misrepresenting his career plans to her. He went on red carpets and took styling gigs instead of relaxing at home with the teapot. What the EFF? How dare he accept red-carpet invites and go to Physique 57, probably for free, on his reality show? Traitor! But Brad says she totally skewed it.
"I think it's unfortunate that she decided to take the angle that she did because it's not the truth," he says carefully. "It's unfortunate that all of the time that I spent with her, and the many lengthy conversations that we had discussing my departure from working with her, that she would choose to character assassinate me on television."
He says that he gave Zoe two and a half month's notice before leaving the company, trained his replacement, and extended his time there in order to complete a job. "I just think it's unfortunate that she feels so competitive with me in a way," he says. "Because I left to create a name for myself – and not to ride on any of her coattails." He continues: "She's so incredibly successful, that a stylist starting out – I don't know what kind of threat that is to her. Maybe she thinks I'm incredibly talented. Who knows."
Well remember that before Brad left Rachel Zoe to much drama, Taylor Jacobson also left to much drama, perpetuated in the plot line of The Rachel Zoe Project by Rachel and Brad. So what can Brad expect, really? She could have stayed politely quiet about that, but television audiences want more, and Rachel wouldn't serve them a sandwich with just one slice of bread. Brad, Rachel, and Bravo could have de-dramatized Brad's departure from the company as well, but that's not going to make either show more compelling to people who watch Bravo.
Yet once this drama fizzles, audiences might feel sated by observing his home life.
"My boyfriend and I are in the kitchen making tea and doing stream of consciousness games with each other. Will people find this funny? Will people find this interesting?" He pauses. "Who knows."
So, really, when he puts it that way, It's a Blog Blog World.