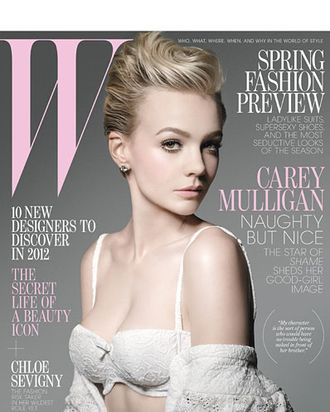 Carey Mulligan, shot for W by Michael Thompson.
In the accompanying article for Carey Mulligan's new W cover, which features her breasts propped up by a fancy Nina Ricci bra, the actress explains her aversion to taking her clothes off for roles:
I've never been comfortable with the idea of nudity. I've done only seminude, very innocent things in the past, and I've always been of the quite British mind-set that I won't do gratuitous nudity. When it came to this [her new film, Shame], it just seemed so obvious that she [her character, Sissy] is the sort of person who would have no trouble being naked … She's an extrovert and wants to be seen. More than anything, she wants someone to acknowledge and help her. I thought I had a week before the nude scene to go to the gym, but we shot it on my first day of filming.
Which actually wound up being fine:
Weirdly, it was fine. You take your clothes off, and you're like, "Ah — all of you are wearing clothes, and I'm naked, ha, ha, ha." It's kind of fun — not that I would continue to do it.
For her W editorial, shot by Michael Thompson, Mulligan got to be fully clothed by Edward Enninful in lots of crisp whites, looking Twiggy-esque with her big black lashes.