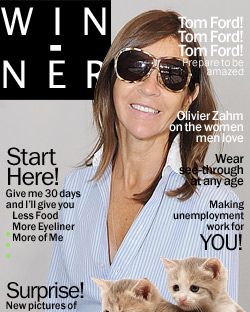 A lengthy profile in today's Times, titled "The 9 Lives of Carine Roitfeld," doesn't shed any new light on Roitfeld's forthcoming magazine. (Although she does confirm — yet again — that it's in the works, that she's not sure if she'll name it after herself, and that her former French Vogue colleague Marie-Amélie Sauvé is on board.) But Roitfeld does comment on those rumors that she requested to sit directly across from her now-nemesis Emmanuelle Alt at fashion shows this past season, presumably so that she could stare Alt down across the runway.
Ms. Roitfeld denied that any attempt at such seating manipulation took place. She said she sat closer to editors from American publications, or on the same side of the runway as Ms. Alt. "I was not very often sitting just in front of her," she said.

That the Roitfeld-Alt rivalry made for a good story, she agreed, as it played into all the Machiavellian things you hear about the terribly competitive editors at Vogue and Condé Nast.
But worry not, their feud is still alive and well:
She said she regretted nothing about losing Ms. Alt's friendship, which had lasted for the 10 years Ms. Roitfeld had edited the magazine.

"Maybe this was not supposed to be a friendship," Ms. Roitfeld said. "If I look at the balance, maybe I lost some people I thought were my friends, but I made so many new friends. I am very happy, in the end, because I am the winner."

Sorry? That French accent can be tough. Did you say … ?

"I am the winner," she repeated. "At the end of the day."
And lo, a perfect title for her new magazine! Although she'd better trademark that, and quickly.