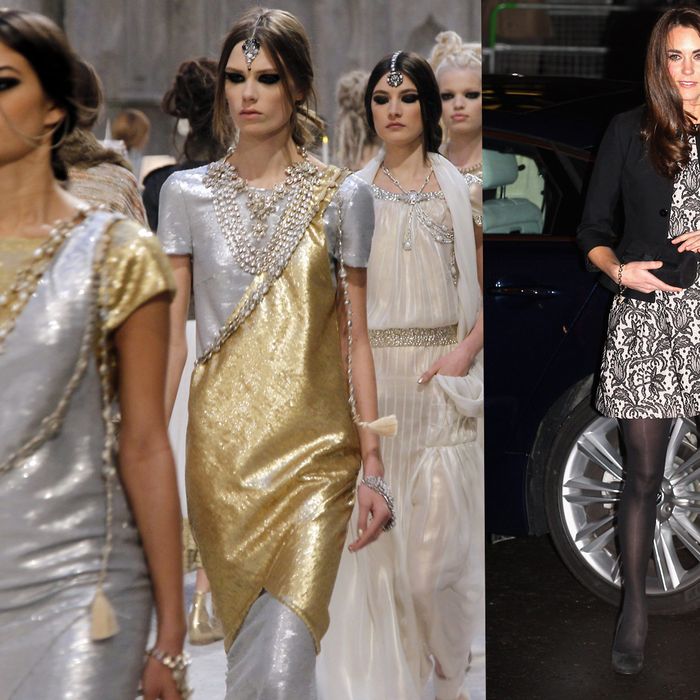 The Chanel pre-fall show, and Kate Middleton in her $100 Zara (with a Ralph Lauren blazer).
Photo: FRANCOIS GUILLOT/2011 AFP
Cathy Horyn, the Times fashion critic, is in London, on assignment, she blogs, where she's thinking about the economy. Europe's economy, you just may have heard, is in a bit of a spot —  a worse spot than ours. So, what the hell was Karl Lagerfeld doing with his unapologetically opulent and sparkly "Paris–Bombay" Chanel pre-fall show? 
"Fashion has always pursued the rich," [Hussein] Chalayan said over lunch. (More from our conversation later.) Fashion has also pursued ideas and innovation, with a dose of reality. I have to admit Karl Lagerfeld's Indian banquet show for Chanel last week left me cold, as did his comment to Lisa Armstrong in The Daily Telegraph: "People have always responded to difficulty by dressing up in jewels."
Really? I prefer the Duchess of Cambridge's more contemporary response. For a benefit concert the other night, she wore a $100 dress from Zara. She just got on with it.
On the other hand, people who buy (and covet) Chanel probably aren't hoping for Karl to exhibit sensitivity in his collections.