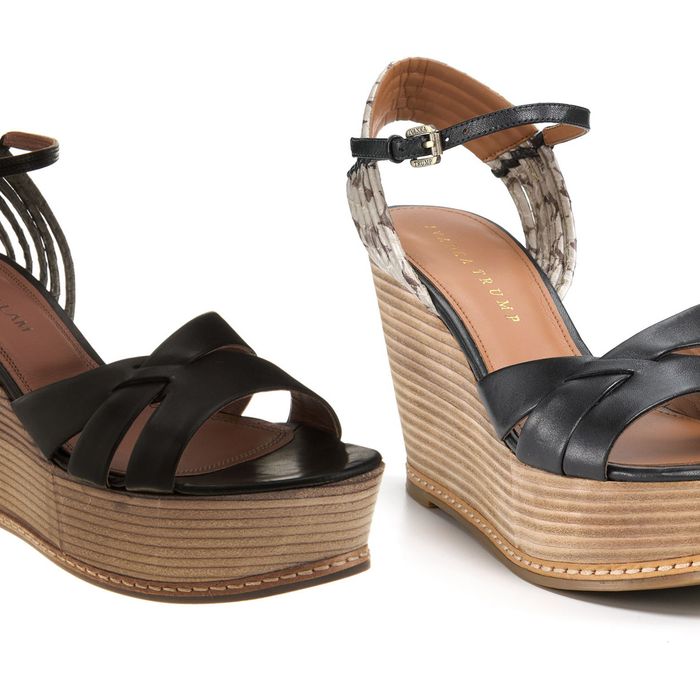 Derek Lam's sandal (left) and Ivanka Trump's (right): twins!
Derek Lam's legal team sent Ivanka Trump a cease-and-desist letter yesterday regarding her Cadie wedge sandals, which look exactly like his Ayami wedge sandals (their retail prices: $150 and $780, respectively). Lam's lawyers have given Trump's company, Ivanka Trump Footwear, and its licensee Marc Fisher Footwear, seven days to pull the shoes from shelves.
WWD reports:
"We have seen very similar copies before but we have never seen a shoe that perfectly copied," said Jan-Hendrik Schlottmann, chief executive officer of Derek Lam. "It's such an investment to make a shoe … we had to protest this."

Schlottmann said one of his shoe designers, who was shopping on bloomingdales.com, saw Trump's wedge and alerted him immediately.

"I actually ordered them, but I haven't received them yet," he said, noting that the sandal is nowhere to be found on Trump's Web site. "I'm sure Ms. Trump doesn't know her wedge is copy because it's through a license."
Meanwhile, Lam's lawyers are combing through sales records of Trump's Cadie wedge, which implies that they might sue for damages.