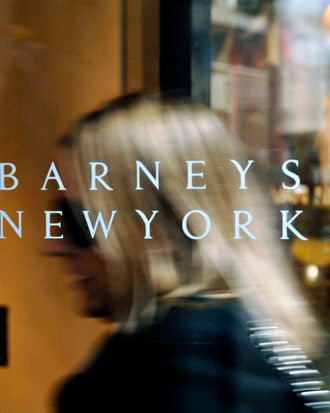 A Barneys New York logo is pictured as a woman enters their 5th Avenue store in New York, Tuesday, March 21, 2006.
Photo: Daniel Acker/Bloomberg via Getty Images
With only three shopping days left before Christmas, Barneys sent out apologetic e-mails to a (yet-to-be-determined) number of their web customers yesterday — because they'd had to cancel their orders. The message from Barneys vice-president of customer experiences states that "a technical problem with our online order management system combined with the overwhelming response to our current offerings caused a number of issues in terms of processing and shipping several orders." This appears to have meant a larger quantity of certain products were sold online than Barneys had available, as the e-mail later confirms, "your order was canceled as we no longer have the inventory to fulfill it." That's unfortunate for Barneys, but on the other hand, at least they're selling out of things.